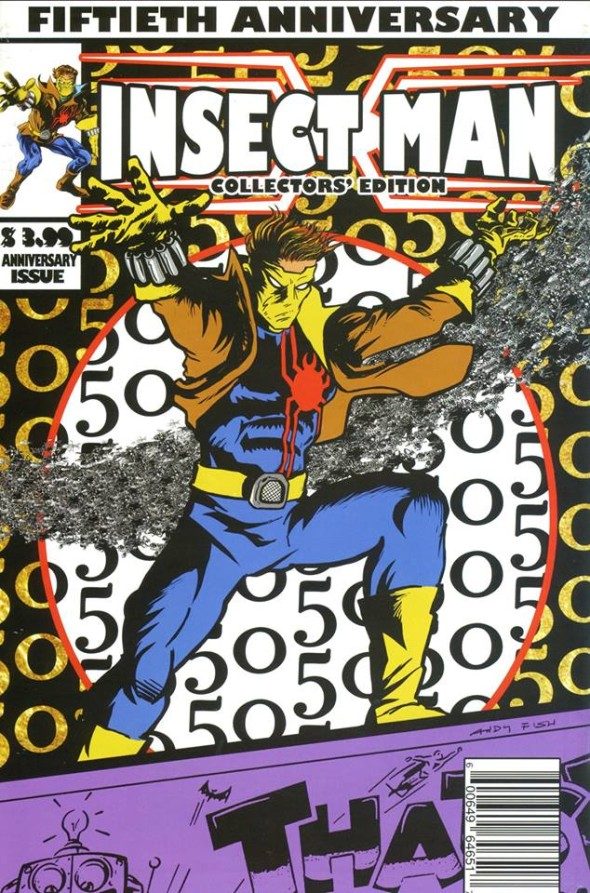 Press Release:
Paul Howley, owner and founder of the pop-culture store, That's Entertainment in Worcester, MA announces the publication of a 50th anniversary edition of his comic book character "Insect Man." The comic book features a dramatic cover drawn by famed comic artist Gene Colan and it is inked by Colan's frequent collaborator Tom Palmer. The interior story and art is by local comic book creators Chris Coleman and Andy Fish.
The release of the issue will be celebrated with a signing event at That's Entertainment on Saturday, February 13th from Noon till 2:00 PM. A signed, limited edition Insect Man print will be available for free on request, one per attendee while supply lasts. The event is free, appropriate for all ages and it is open to the public.
Howley created the Insect Man character during his youth in Bolton, MA, writing and drawing comic book issues that he would then photocopy for his friends beginning in 1966.
"Insect Man had a ring that allowed him to change instantly into any kind of bug. It was a good power for sneaking up on people, disappearing and for flying around," Howley explains, "But if he needed to just clobber somebody, he'd stay in human form and do his best."
"One unique aspect of Insect Man was that his base of operations was Worcester, rather than New York, Gotham or Metropolis," Howley says. "We billed him as 'Worcester's Own Superhero.' We sold copies in the store, and even mailed out copies to subscribers in other states."
In 1997, comic artist Gene Colan, whom Howley calls "truly one of the greatest of all-time", agreed to make a special appearance at That's Entertainment to sketch and sign for awestruck fans. With decades of dynamic art for characters like Batman, Daredevil, The Avengers, Iron Man, Doctor Strange, and Dracula on his resume, Colan was Howley's personal favorite artist.
That's Entertainment
244 Park Ave, Worcester, MA 01609
(508) 755-4207