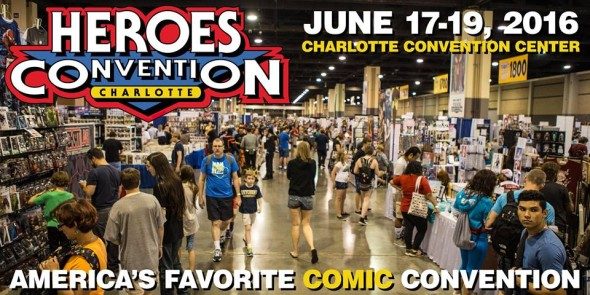 Tickets for HeroesCon 2016, which will be held on Friday, June 17th – Sunday, June 19, 2016 at the Charlotte Convention Center, are now available for sale online! HEROES CONVENTION was founded in 1982 by Shelton Drum, owner of Charlotte's Heroes Aren't Hard To Find comics shop. Since then the convention has become famous for its comics-first and family-friendly atmosphere, where fans can mingle directly with professionals and exhibitors. Boasting an incredible guest list built mainly on reputation and goodwill, HeroesCon is known nationwide as a "must" on the summer schedule, drawing fans, exhibitors, and creators from all over the world to the Charlotte Convention Center. Get tickets at the link!
Guests include:
KRIS ANKA | Captain Marvel, X-Men, X-Force, Wolverine
JOHN BEATTY | Secret Wars, Punisher, Batman, Thanos Quest
REILLY BROWN | Lobo, Deadpool: Dracula's Gauntlet, Incredible Hercules
RYAN BROWNE | God Hates Astronauts, Manhattan Projects, Bedlam
RICHARD CASE | Spider-Man, Doom Patrol, Hunter: The Age of Magic, Annie Ammo
RYAN CODY |Doc Unknown, Monstrous, The Phantom
JAMIE COSLEY | Cody the Cavalier
KELLY SUE DECONNICK | Bitch Planet, Pretty Deadly, Captain Marvel
MARC DEERING | Supergirl, Legion
DARRYL "DMC" MCDANIEL (Presented by Pros For Life) | DMC
MICHEL FIFFE | Copra, Zegas, Twisted Savage Dragon Funnies
CHARLES FORSMAN | Revenger, TEOTFW, Celebrated Summer
MATT FRACTION | Sex Criminals, Casanova, ODY-C, Hawkguy
RAMONA FRADON | Aquaman, Metamorpho
SANFORD GREENE | Power Man & Iron Fist, Runaways, Rotten Apple, Deadpool
GENE GONZALES | DC Comics Licensing Artist, Iron Man 2 Cards, Diary of Night
JASON GONZALEZ | La Mano Del Destino
PAUL GULACY | Master of Kung Fu, Sabre, Batman, Slash Maraud, Catwoman
KEENAN MARSHALL KELLER | The Humans, Galactic Breakdown, Force Majeure
JASON LATOUR | Southern Bastards, Spider-Gwen, Loose Ends, Winter Soldier
DREW MOSS | Terrible Lizard, The Colonized, The Crow: Pestilence, In the Dark
TOM NEELY | The Humans, Henry & Glenn Forever, The Blot
JOE PEKAR | Grimm Fairy Tales, Brandi Bare, Spider-Man: Shattered Dimensions
MATTHEW ROBERTS | Manifest Destiny, Battle Pope: Mayhem
ROBBI RODRIGUEZ | Spider-Gwen, Frankie Get Your Gun, FBP, Uncanny X-Force
MARK SCHULTZ | Xenozoic Tales, Carbon, SubHuman
BEN SEARS | Double+, Pressure/Sensitivity, As You Were
CHRISTOPHER SEBELA | High Crimes, Ghost, Dead Letters, Alien Vs. Predator
BRIAN STELFREEZE | Black Panther, Day Men, Wednesday Comics
WILLIAM STOUT | Heavy Metal, Wizards, Alien Worlds, Hallucinations
BABS TARR | Batgirl, Bosozoku Sailor Scouts, Lady Knights//Women Warriors
RICH TOMMASO | Dark Corridor, The Horror Of Collier County, 8 1/2 Ghosts
CHRIS VISIONS | Dead Letters, Spider-Gwen, Scarlet Witch, Devils on the Levee
KEVIN WADA | She-Hulk, Catwoman, X-Men, Adventure Time
JAKE WYATT | Necropolis, Ms Marvel, Hulk
SKOTTIE YOUNG | I Hate Fairyland, Rocket Racoon, Fortunately the Milk, Oz
& MANY MORE!
HeroesCon 2016 Artists Alley tables are on sale NOW! Reserve your table at America's Favorite COMIC Convention today! Click the link for prices and further details.
Heroes Convention is not only one of the most recognizable names on the comics convention circuit, but has a well-deserved reputation as a convention that puts comics first, meaning aisles packed with fans looking for new comics and comic-related merchandise to check out. Our 2016 HeroesCon will be one of our biggest yet, and booth space is fully expected to sell out well in advance of the show. No space is reserved without payment in full: act now to reserve your 6′ table, 2 chairs and 2 badges!