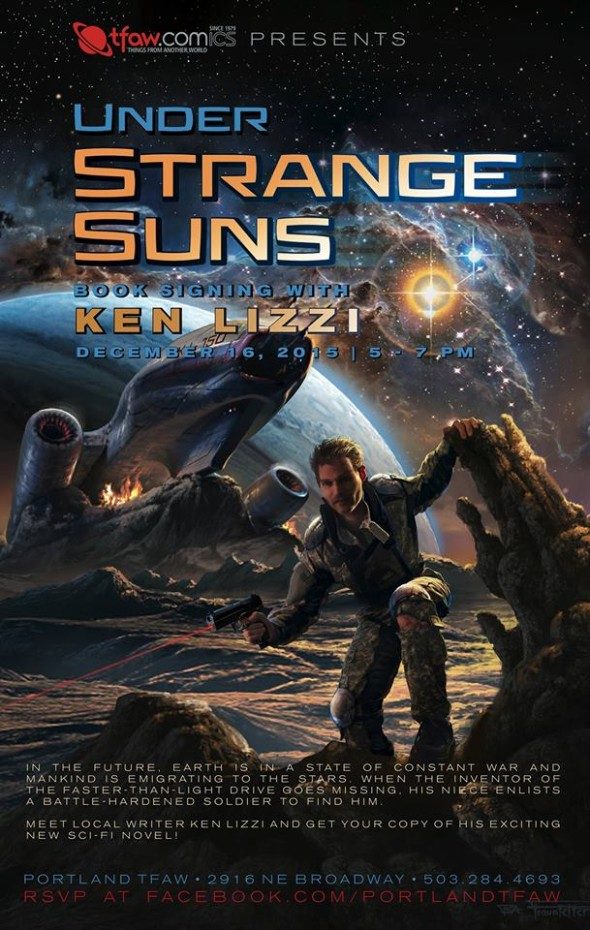 Press Release:
Things From Another World is excited to host local writer Ken Lizzi for a signing of his new sci-fi novel, Under Strange Suns, on Wednesday December 16th from 5:00 p.m. to 7:00 p.m. at the Portland TFAW!
In the future, a terrorist attack has left the Earth in a state of constant war, and mankind is emigrating to the stars. When the inventor of the faster-than-light drive goes missing, his niece enlists a battle-hardened soldier to find him. Special Forces soldier Aidan Carson is tired of fighting, but the offer to join the search gives him a chance at a fresh start. Carson soon learns there is nothing new Under Strange Suns.
Ken Lizzi is the author of the Portland-set sci-fi novel, Reunion, as well as an assortment of published short stories. He lives in Portland with his wife, Isa, and daughter. When not traveling, he enjoys reading, homebrewing, and working on his latest novel.
Things From Another World
2916 NE Broadway, Portland, OR 97232
(503) 284-4693