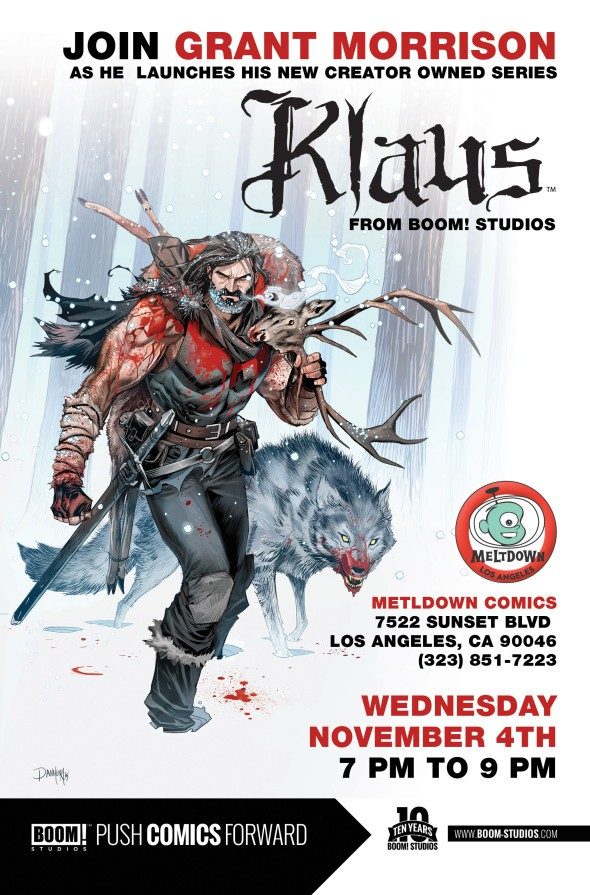 Writer Grant Morrison appears at Meltdown Comics on Wednesday, November 4th, from 7:00 till 9:00 PM!
Press Release:
Come meet, greet and get stuff signed by THE MAN, THE MYTH, THE LEGEND, THE ONE AND ONLY, GRANT MORRISON. Grant will be launching his creator owned series KLAUS, Wednesday, November 4th, 7:00 PM at Meltdown Comics.
Grant Morrison is one of the most prolific and best-selling writers in comics, earning a reputation for his ability to effectively revamp superheroes like Animal Man, Batman, and the X-Men. His creator-owned titles are also highly praised, including The Invisibles, Nameless, We3, and Joe the Barbarian, because no one tells mythical stories better than him. In Klaus, Grant reimagines one of the biggest cultural myths in history, and we could not be more excited to pair him with one of our homegrown talents, Dan Mora (Hexed)!
ABOUT KLAUS: Set in a dark fantastic past of myth and magic, Klaus tells the story of how Santa Claus really came to be. Where did he begin? What was he like when he was young? Why does he do what he does? How does he do what he does? And what happens when he faces his greatest challenge? Drawing on Santa Claus' wilder roots in Viking lore and Siberian shamanism – taking in the creepier side of Christmas, and characters like the sinister Krampus – Klaus is a "Santa Claus: Year One."
Meltdown Comics
7522 Sunset Blvd, Los Angeles, CA 90046
323.851.7223