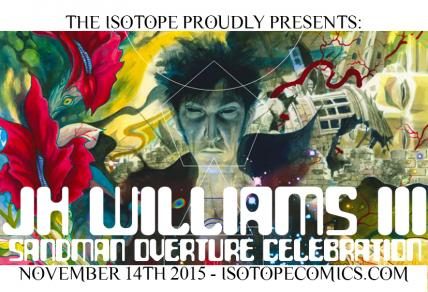 Artist JH Williams III appears at Isotope: The Comics Lounge on Saturday November 14, 2015 from 2:00 – 6:00 PM to sign SANDMAN OVERTURE!
Press Release:
Celebrating the greatest living comic artist working today – JH Williams III (SANDMAN OVERTURE, BATWOMAN, PROMETHEA) and the release of the biggest book of the decade, the SANDMAN OVERTURE DELUXE EDITION hardcover!
There are few people on planet Earth we love more than JH Williams III (if you like beautiful memories people share with their friends this will bring tears to your eyes) and together we've been quietly planning our event to celebrate the amazing SANDMAN OVERTURE for a long, long time. As Jim doesn't make very many public appearances we know his visit is going to be *very* popular. The Isotope staff wants you all to have a wonderful experience meeting him and for everyone to get to create amazing memories of JH Williams III's visit together. So we're doing a duo of events as only the Isotope can to make sure everyone has a chance to meet one of the nicest and most talented people in all of comics! First up is a casual, daytime signing event for the under 21 crowd, and then an epic celebration later that evening for the folks who like our mix and mingle, bring-your-ID, after-dark events.
SANDMAN OVERTURE SIGNING w/ JH WILLIAMS III
2pm – 6pm, Saturday November 14th
This intimate all-ages autographing session is completely free of charge and open to all. We want to ensure you have a completely unique and personal experience with Jim so we're specifically tailoring this event to let you have a real moment to sit down with him. Jim will sign your SANDMAN OVERTURE hardcovers, PROMETHEA omnibii, BATWOMAN paperbacks, vintage CHASE comics, BLONDIE and THE SWORD albums, and anything else he's ever worked on. We don't even mind if you've bought them elsewhere, this isn't about us, it's about you and Jim getting to say "hi." As this is sure to be a popular signing and we definitely want everyone to get time to actually talk with Jim so we kindly ask that you bring no more than 5 items for him to sign. On behalf of every one of us, thanks in advance!
SANDMAN OVERTURE AFTER PARTY w/ JH WILLIAMS III
8pm – Midnight, Saturday November 14th
Full details of this event will be announced on November 1st.
A 21+ event as only the Isotope can do! If you've been to an after-hours party at the Isotope before you know the great atmosphere and amazing crowd that will be turning out for this. This event has a casual backstage-after-the-show vibe and gives you all an opportunity to actually hang out and get to know Jim… the way we think an in-store appearance should truly be!
Attendees of this event get a free, Isotope exclusive, ultra-limited edition JH Williams III fine art print on acid-free/pH neutral 100% cotton rag Fabriano Watercolor Paper, lovingly printed using Epson's archival UltraChrome inks with a lightfastness rating of over 200 years. Created specifically for this event by Williams and the Isotope, and available nowhere else on the planet, this hand-numbered print is suitable for framing… and… something even cooler!
We can't wait to show you more!
Full details on SANDMAN OVERTURE AFTER PARTY w/ JH WILLIAMS III will be announced on November 1st.
Isotope – The Comic Book Lounge
326 Fell Street, San Francisco, CA 94102
(415) 621-6543