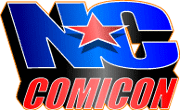 Convention Name
NCcomicon
Convention Website Address
http://www.NCcomicon.com
This convention will take place:
Start Date (Format mm/dd/yyyy)
11/13/2015
End Date (Format mm/dd/yyyy)
11/15/2015
About This Convention
Featuring Exclusive Guests to North Carolina and The United States ! Gerard Way-Charlie Adlard- Adam Hughes….WE are just getting warmed up!
Venue Name and Address
Durham Convention Center
301 W. Morgan Street
Durham, NC 27701
United States
Map It
Number of Dealer/Exhibitor Tables
150
Projected Attendance
9,000
Please select the Category that best describes the convention
Anime
Additional Categories
Guests
Gerard Way, Adam Hughes and Charlie Adlard!