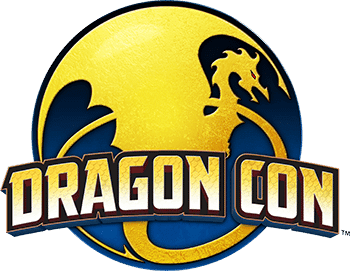 It started with my friend John, whom you may remember as my sometime convention companion. He was with me at
Minneapolis Wizard World
and at
Spooky Empire
in Orlando, where we discussed the popularity of horror movies while waiting to meet Tobin Bell.
Back in 2011, John sent me an email that read, "Son, look at this." John and I have called each other "son" for twenty years. It's our oldest invention, the stone tools of our friendship. His email included a link to a convention called DragonCon, which I was unfamiliar with. "We should go to this to watch all the freaks," he went on. "We'd have the time of our lives!"
We went to DragonCon that year, plus the next two. In 2014, John was unavailable, so I took my wife and daughter, who went with me again this year, marking my fifth Labor Day weekend spent in Atlanta, Georgia.
* * *
DragonCon has been held in the Dogwood City since 1986, when it was started by a science fiction and gaming group, the Dragon Alliance of Gamers and Role-Players (DAGR). From the outset, it was different. In an era when most conventions focused on a single universe (Star Wars, Star Trek, Doctor Who) or medium (comics, games, science fiction), DragonCon was founded as a multi-genre convention, and it has remained one ever since.
That first gathering drew 1,400 fans and featured some surprisingly renowned guests: Robert Asprin, Lynn Abbey, Michael Moorcock, and the band Blue Öyster Cult. Attendance grew every year, doubling in some years. By 1995, it was at 14,000. It topped 40,000 in 2010, and in 2015, just five years later, over 65,000 were expected. Heck, there are now more volunteers (2,300+) than inaugural attendees!
Most gatherings of that size take place in convention centers, but DragonCon is still hotel-based. Initially confined to the Piedmont Plaza, it now swamps five four-star venues: the Hilton, Hyatt Regency, Marriott Marquis, Sheraton, and Westin. Vendor booths are located in a sixth building, the AmericasMart. Over 3,000 hours of programming are spread among those hotels, divided into fortysomething tracks. Tracks such as comics and Tolkien are the DNA of DragonCon. Others like podcasting, Whedon Universe, and filking are newer. The curriculum is always changing, always improving, according to Dan Carroll, DragonCon's director of media. The alternate history track, for example, was added seven years ago when a panel on the topic was planned for 400 people. Over 3,000 showed up.
I went to one panel this year. Cacophonously titled "Legendary SW Authors Talk Mythos," it featured four writers—Rebecca Moesta, Timothy Zahn, Michael Stackpole, and Kevin J. Anderson—who have totaled no fewer than 50 Star Wars novels. To call these authors "legendary" carries a double meaning, as their works, like others of the Star Wars Expanded Universe, are no longer canon thanks to a 2014 Lucasfilm decree. (This article describes the new continuity in detail.)
The authors talked about this decision, not to bellyache but to explain that it isn't the degradation most fans seem to think. They knew from the start that they were scribblers, hired to tell tales from someone else's world. They didn't feel betrayed; they felt lucky for the opportunities. After all, it isn't just any world—it is Star Wars, one of the best worlds in this, or any, universe. Besides, there is nothing to stop Lucasfilm from taking their work—say, Michael Stackpole's X-Wing books—and turning it into a separate movie or TV series, a possibility hinted at during last year's San Diego Comic-Con.
The panelists discussed other topics, including their tastes in stories (westerns, Doc Savage, Edgar Rice Burroughs, and fortuitously, romances like Gone with the Wind), what influenced them as writers, and how they collaborate. It was a fascinating colloquy despite the feebleness of the moderator, a supposed Star Wars blogger whose questions were rambling and confused the panelists. One question had already been answered by Stackpole, and after the moderator asked it, Kevin J. Anderson said, "Mike, you want to run through that again?" The moderator smiled, turned to the audience, and said, "Never mind. We'll take your questions now."
* * *
One of the biggest attractions of DragonCon is the Walk of Fame, where all the TV, movie, gaming, and other guests interact with fans. Over 400 guests attended this year, a few of them household names: Stephen Amell, John Barrowman, Katie Cassidy, Karen Gillan, Nichelle Nichols, and Edward James Olmos. I wanted to interview some guests, a process DragonCon manages better than most conventions. Reporters who are granted press passes must be separately approved for interviews. These approvals are based on the size of their media outlets. Once I got my approval, I could request interviews with up to ten guests.
With over 500 interview requests for 114 slots (according to Samantha Douglas, the interview coordinator), not every reporter approved for interviews actually gets one. Imagine my surprise when I was offered two: one with Sylvester McCoy, who played the Seventh Doctor on Dr. Who, and one with Caroll Spinney, who played Big Bird and Oscar the Grouch on Sesame Street. The interviews were actually press conferences held in one of the Marriott meeting rooms. About twelve reporters were at each one. Most represented nerd-news sites like ConventionScene, though I also saw CNN and Georgia Public Broadcasting.
Through no fault of DragonCon, the press conferences were disasters. After we waited thirty minutes for Sylvester McCoy, someone came in to say that he was cancelling. His panel had run long, and because he was leaving that afternoon, there was no time to reschedule. Carol Spinney was over an hour late (he simply forgot) and stayed only about ten minutes. Here is a bit of what he had to say:
Reporter: I heard in other interviews that you based Big Bird on a four-year-old child. Over the years, have you had to adjust your characterization of that four-year-old child version of Big Bird based on the generations?
Spinney: Actually, initially, since I decided Big Bird could not read or write, he was four-and-a-half. Then I had to go up to six. And now he has been six for years. He is a precocious child of six. He travels by himself with a dog. And he went to China, somehow. I don't know how he got tickets. I think it's just fun playing him as a kind of wide-eyed child. I get letters all the time from children saying, "Big Bird, you're my best friend. Please come and play with me." One said, "How about next Thursday?"
Reporter: When the movie [Follow That Bird, 1985] came out, Big Bird had already been around for a while, and a whole generation of children had been watching him and relating to him as a friend, and kids really felt that their friend had been kidnapped. Were you expecting Big Bird to connect to a whole country of children at that deep of a level?
Spinney: I didn't really know what to expect. When Jim Henson hired me, we were both puppeteers. I would do whatever characters needed performing, but by the third year, with Big Bird, I was so busy. They tried to have me continue doing the incidental stuff too, but one day, Big Bird was in almost all the scenes, and I had to keep taking a taxi up and down Broadway [performing as different characters in different scenes], so one day I said, "Let's not play this game anymore." On the fourth year, I said I was busy enough that we needed more puppeteers. So we got some more.
Reporter: I saw that you visited the Center for Puppetry Arts yesterday. Can you talk about what you saw and did there?
Spinney: Well, the museum is going to open by November. They have so many things to display. I saw the place where they are building and repairing puppets, a lot of the Henson puppets that are worn-out. Some of the material has decayed. It has turned to powder. The only puppet I ever created myself is one that has gone to pieces. It was Bruno, who carried Oscar's trash can around. There were fake arms going to Bruno's shoulders, and my hands were inside. Oscar would come up and try to boss him around, but Bruno would not be bossed. I designed Bruno so that my head was in his head. I could see out through where the bags under his eyes would be. He looked like a Bert-type puppet. That way, we could get Oscar out on stage for concert tours. I asked a couple of years ago why we don't use Bruno in shows anymore. He doesn't exist. He has turned to powder. I asked why they don't make a new one. It would cost $20,000, so good-bye, Bruno.
Reporter: You are an animator as well. Are you planning on making any future animations?
Spinney: Not really. After four years of doing it in Boston, I kind of got tired of it. I was glad it didn't have to be my permanent career. I was hired by Disney Studios to be an animator, though I didn't take the job. This was 1957, and the pay was only $56 a week for the first two years. I decided I'd try for something different, so I did. Walt [Disney] actually walked into the room during my interview. I never actually got to speak to him. I had always had a bucket list of three people I would like to meet: Andrew Wyeth, who I spent an afternoon with once and his son Jamie; Walt Disney—at least I was in the same room with him, and I turned his company down; and the other one was Jim Henson, who personally hired me. So I guess I accomplished all those.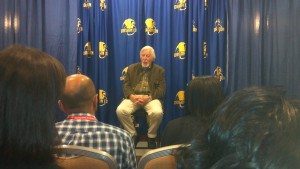 Caroll Spinney in the interview room
* * *
Suppose you are thinking of going to DragonCon in 2016, which will be its 30th anniversary. What do you need to know?
 Book early. Tickets are plentiful, but the hotels fill up fast. The marketing manager at the Hyatt told me that it takes fifteen minutes to sell his 1,250 guest rooms for DragonCon weekend.
Prepare to wait. You will wait for autographs. You will wait for panels. You will wait for the Heroes & Villains ball or the DragonCon Burlesque or panels with the biggest celebrities. Heck, you will wait for an elevator or a restroom. Get used to it.
Pay in cash. I have a dream that someday the DragonCon decision-makers will realize they need to mail pre-paid badges. What's the point of buying online when you have to pick them up in-person? This means 65,000 people standing in line. Yes, registration starts on Thursday, but this benefits only those who buy a weekend pass. Those who want a one-day pass on Saturday can only buy it on Saturday and must pick it up on-site, even if they paid online. You may as well pay for a one-day on-site, and if you do, pay cash. The cash line is terribly shorter and faster than the credit card line.
 Account for the parade. A highlight of the weekend is the Saturday parade, which starts at 10:00am and stretches through downtown. Over 80,000 people show up to watch, making it the second largest parade in the state of Georgia (the first is the Savannah St. Patrick's Day Parade). Along the parade route, every inch of sidewalk bears a geeky gawker. It's like a Marvel mosh pit, so plan accordingly. I heard one woman complaining that she had missed her Saturday morning photo op (which she had paid for) because she could not reach the hotel through the throng.
 Schedules are bunk. The program you are handed at registration contains a detailed schedule for the entire weekend. It is outdated the moment it is printed. There is a smartphone app that is kept current, but even it is not omniscient. For example, when I entered the Walk of Fame on Saturday, I saw a handwritten sign taped above Karen Gillan's booth announcing that she would arrive on Sunday. DC Comics luminary George Perez left at 1:00pm on Saturday, and that was announced only when his signing line was cut off at noon. And I've already mentioned the press conference bloopers. Bottom line: No one can manage a convention of this heft flawlessly, so be flexible. Don't have a meltdown when something goes awry.
Take care of yourself. Dan Carroll calls DragonCon an "immersive experience." This can be dreadful if you don't manage it. He told me about an attendee some years back, a diabetic, who fainted during a session in the gaming room. She told the EMT who restored her that she hadn't eaten in two hours. "When did you last eat?" the EMT asked. "Around 2:00," the woman answered. The EMT looked at her and said, "Honey, it's now 11:00."
Six buildings. 65,000 attendees. 2,400 volunteers. A $55 million economic impact. You may have attended conventions in the past, but none compares to DragonCon, one of the United States' largest and most venerable. Nowhere is this more evident than in the cosplays, which are more sumptuous than those you'll see anywhere. Check them out for yourself below. Maybe I'll see you there next year, when I plan to be dressed like this.
* * *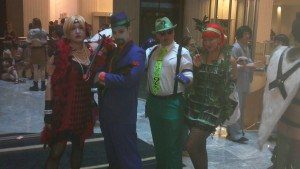 Gotham City's underworld, circa 1925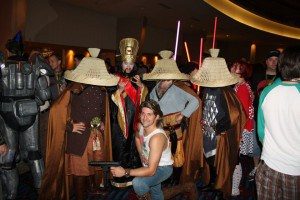 I didn't want trouble, but these guys brought it. Big trouble.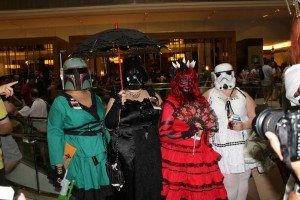 George Lucas's first casting attempt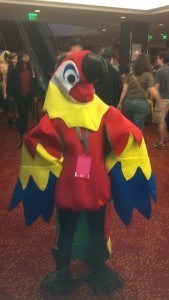 Here's Sam. Where's Dean?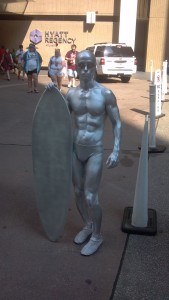 It's always hot in Georgia in early September. Some people respond by practically going nude.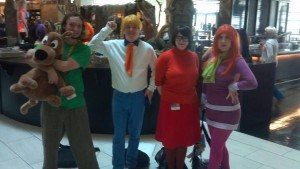 Who you gonna call? Sorry, wrong ghostbusters.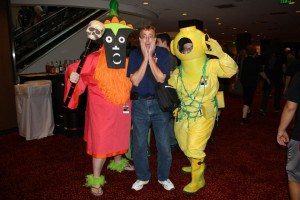 Maybe Mystery Inc. was looking for these guys. I found them instead.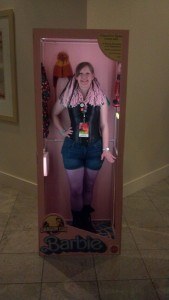 I went to DragonCon looking for a life-size Barbie doll. Here it is.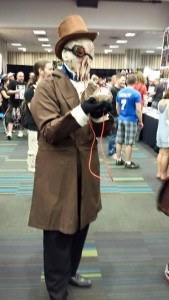 This was a ood cosplay . . . I mean, a good cosplay.
An impromptu Muppet Show breaks out.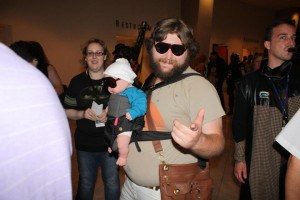 I found a baby once. Then this guy took him from me.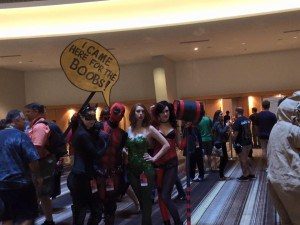 Preach it, Deadpool. Preach it.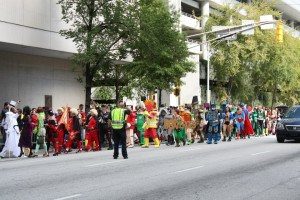 Want to know what 3,000+ cosplayers in a parade look like? Here's a glimpse.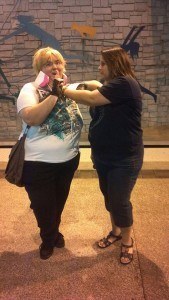 Want to know what happens when my wife and daughter spend an entire weekend together? Here's a glimpse.