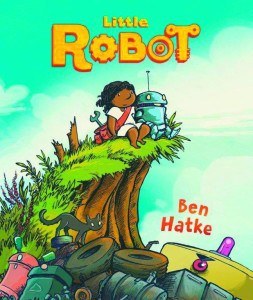 Cartoonist Ben Hatke appears in conversation with Gene Luen Yang at Kepler's Books on Monday, September 21, 2015 at 7:00 PM to present LITTLE ROBOT!
Press Release:
Love graphic novels? Come and meet #1 New York Times Bestselling author Ben Hatke, artist, writer and creator of the awesome Zita the Spacegirl graphic novels about which School Library Journal says, "…this charming, well-told story has a timeless "read to me" quality that makes it perfect for one-on-one sharing".
Ben will be at Kepler's to discuss his newest graphic novel, Little Robot. He will be in conversation with Gene Luen Yang, author of the National Book Award and Printz Award winning, "American Born Chinese", "Boxers & Saints", and "The Shadow Hero". Gene currently writes Dark Horse Comics' Avatar: The Last Airbender series and DC Comics' Superman.
About Little Robot:
When a little girl finds an adorable robot in the woods, she presses a button and accidentally activates him for the first time. Now, she finally has a friend. But the big, bad robots are coming to collect the little guy for nefarious purposes, and it's all up to a five-year-old armed only with a wrench and a fierce loyalty to her mechanical friend to save the day! Ben Hatke brings his signature sweetness to a simple, moving story about friendship and overcoming fears that will appeal to readers of all ages.
The event is free – please register at the link today.
Kepler's Books
1010 El Camino Real, Menlo Park, CA 94025
(650) 324-4321