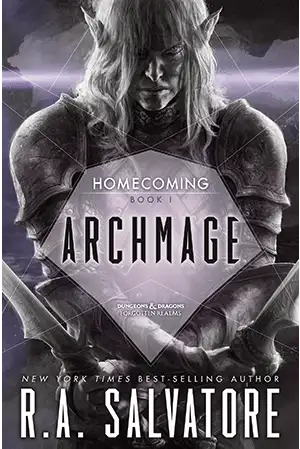 R. A. Salvatore appears at Auntie's Bookstore on Wednesday, September 16th from 7:00 PM!
Press Release:
On September 1 a long-awaited release will finally hit the shelves of bookstores all over the country. R.A. Salvatore's first book of the new Homecoming series titled Archmage is sure to bring in a roaring crowd as the New York Times bestselling author and writer of the wildly popular fantasy series The Legend of Drizzt visits Spokane for an appearance here at 7pm on Wednesday, September 16.
R.A. Salvatore has been a household name for many years as his fantasy-based novel collection has grown to consist of 19 different series and over 70 various titles. Such series include The Dark Elf Trilogy, The Hunter's Blade Trilogy, and Paths of Darkness. His first published novel, The Crystal Shard, was released in 1988 and from there started a whirlwind of character development and insane popularity throughout the fantasy genre.
Salvatore gains much of his inspiration and perspective from various literary geniuses of the past. He has remained tremendously well-known and well-loved with each new book. Mark your calendars now for Wednesday, September 16, and come early for best seating.
Auntie's Bookstore
402 W Main Ave, Spokane, WA 99201
509.838.0206