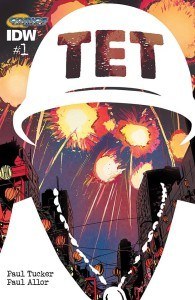 Paul Tucker and most of St. John's comic art community at Downtown Comics on Thursday, September 10th from 6:00pm – 9:00pm to celebrate the release of Paul's new comic book from IDW called "TET"! Paul will sign copies of "TET #1" so make sure you put in your order now for your copy!
Downtown Comics is proud to sponsor this exclusive comic signing event and we'll even drum up a few prizes too! We will be hosting a signing every month for the four months that the series runs! And will have a big party after the last issue is released!
ABOUT TET: Eugene Smith is desperate to leave Vietnam behind, and begin a new life with the woman he loves. But when a fellow Marine is brutally murdered, Eugene's plans are thrown away, forever. All's fair in love and war, right? Writer Paul Allor and artist Paul Tucker present an extraordinary, heartfelt story of hard-boiled crime and star-crossed romance, set at the height of the Vietnam War and the decades that followed.
Downtown Comics
141 Duckworth Street, St. John's, Newfoundland and Labrador A1C1E9
709-738-2933