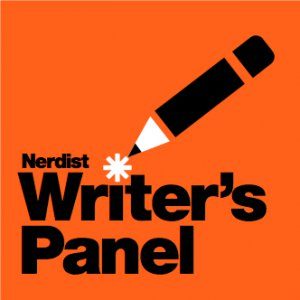 Ben Blacker and special guest Joe Hill appear at Brookline Booksmith for a live recording of the Nerdist Writers Panel podcast on Monday, August 31, 2015 at 7:00 PM. Please note this event has been postponed till Saturday, November 14th! Tickets purchased for 8/31 will be honored.
The Nerdist Writers Panel series is an informal chat moderated by Ben Blacker (co-creator of the Thrilling Adventure Hour; writer for Puss in Boots, Supernatural) with professional writers about the process and business of writing. This live taping will feature Joe Hill, the acclaimed author of novels, short stories and comics, including Horns and NOS4A2.
If you purchased tickets for the initial date of this podcast taping, your tickets are good for this rescheduled date. If you cannot make the reschedule date of Saturday, 11/14 at 7 PM, we will refund your ticket. Give us a call at 617.566.6660 for more information.
Tickets are $5 each and all ticket proceeds will be donated to 826Boston, the national non-profit tutoring program. **SOLD OUT**
Brookline Booksmith
279 Harvard Street, Brookline, MA 02446
(617) 566-6660