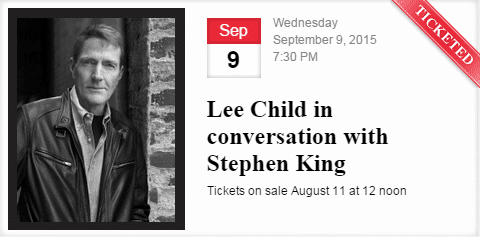 Author Lee Child appears in conversation with Stephen King at the Sanders Theatre on Wednesday September 9, 2015 at 7:30 PM to present Child's new novel MAKE ME.
Press Release:
Harvard Book Store is thrilled to welcome internationally bestselling author of the Jack Reacher novels LEE CHILD and world-renowned author STEPHEN KING for a discussion of Lee Child's latest book in the Jack Reacher series, Make Me. A book signing with Lee Child will follow the discussion.
Tickets
Tickets go on sale Tuesday, August 11 at 12 noon through the Harvard Box Office only:
-in person at the Smith Campus Center (1350 Mass Ave, Cambridge MA 02138)
-over the phone at 617.496.2222
-online at www.boxoffice.harvard.edu
Tickets are $32. Each ticket includes a copy of Make Me by Lee Child. These copies of the book may only be picked up at the venue the night of the event, and cannot be picked up in-store beforehand.
Book Signing
Lee Child will be signing copies of Make Me following the talk. A limited quantity of pre-signed copies of Make Me will also be available.
Those joining the signing line may each bring up to two (2) additional Lee Child books from home to be signed.
Please note: Stephen King will not be joining the book signing.
About Make Me
"Why is this town called Mother's Rest?" That's all Reacher wants to know. But no one will tell him. It's a tiny place hidden in a thousand square miles of wheat fields, with a railroad stop, and sullen and watchful people, and a worried woman named Michelle Chang, who mistakes him for someone else: her missing partner in a private investigation she thinks must have started small and then turned lethal.
Reacher has no particular place to go, and all the time in the world to get there, and there's something about Chang . . . so he teams up with her and starts to ask around. He thinks: How bad can this thing be? But before long he's plunged into a desperate race through LA, Chicago, Phoenix, and San Francisco, and through the hidden parts of the internet, up against thugs and assassins every step of the way—right back to where he started, in Mother's Rest, where he must confront the worst nightmare he could imagine.
Walking away would have been easier. But as always, Reacher's rule is: If you want me to stop, you're going to have to make me.
Sanders Theatre
45 Quincy St, Cambridge, MA 02138