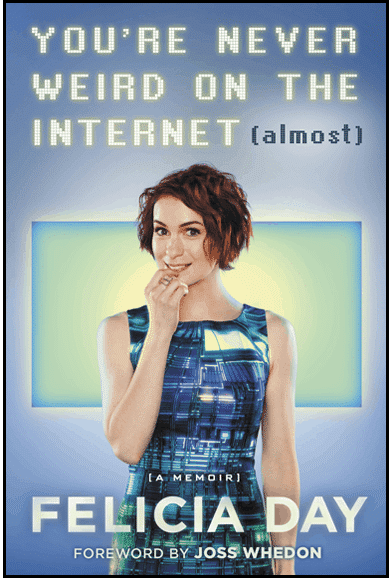 Felicia Day (The Guild, Geek & Sundry) appears at Book Passage on Friday, August 21, 2015 at 12:30 PM to sign her new book YOU'RE NEVER WEIRD ON THE INTERNET (ALMOST)!
Press Release:
The Internet isn't all cat videos. There's also Felicia Day. A violinist, filmmaker, Internet entrepreneur, compulsive gamer, and former lonely homeschooled girl who overcame her isolated childhood to become the ruler of a new world of Internet geeks and Goodreads book clubs. After growing up in the south where she was "homeschooled for hippie reasons," Felicia moved to Hollywood to pursue her dream of becoming an actress and was immediately typecast as a crazy cat-lady secretary. But Felicia's misadventures in Hollywood led her to produce her own web series, own her own production company, and become an Internet star. Now, Felicia's strange world is filled with thoughts on creativity, video games, and a dash of mild feminist activism, just like her memoir. Hilarious and inspirational, "You're Never Weird on the Internet (Almost)" is proof that everyone should embrace what makes them different and be brave enough to share it with the world, because anything is possible now- even for a digital misfit.
Felicia Day is a professional actress who has appeared in numerous mainstream television shows and films, including a two-season arc on the SyFy series Eureka and a recurring role on The CW show Supernatural. She co-starred in Joss Whedon's Emmy Award-winning Internet musical, "Dr. Horrible's Sing-Along Blog". She also created and starred in the hit web series The Guild, which ran for six seasons. In 2012, she launched a YouTube channel called Geek & Sundry, which has garnered more than 1.3 million subscribers to date and more than 200 million views. In 2014, the company was purchased by Legendary Entertainment. Day continues to act as CCO and develop web content and television projects with Legendary as a producer, writer, and performer. She is the eighth most followed person on Goodreads, where she is also the founder of Vaginal Fantasy, a romance and fantasy book club with more than 13,000 members.
Book Passage
1 Ferry Building San Francisco, CA 94111