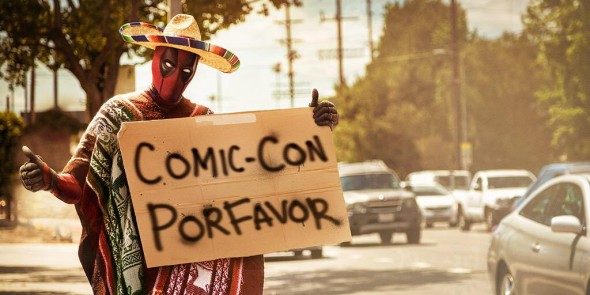 Press Release:
This morning, Ryan Reynolds and the cast of the upcoming film from 20th Century Fox, DEADPOOL, announced their appearance at this year's Comic Con in San Diego with a nod to The Merc's favorite TV Show, The Golden Girls, by tweeting the theme song. Below, find all the tweets from the DEADPOOL cast in order:
Hey #SDCC, Thank you for being a friend… pic.twitter.com/Kl52TtOPio

— Ryan Reynolds (@VancityReynolds) July 8, 2015
https://twitter.com/ginacarano/status/618797336131579905
. @ginacarano @VancityReynolds @deadpoolmovie
"Your heart is true, you're a pal and a confidant…" pic.twitter.com/vAVbLTIY0n

— t.j. miller (@nottjmiller) July 8, 2015
.@nottjmiller And if you threw a party, invited everyone you knew…#SDCC #Deadpool pic.twitter.com/z4l9m7ZAF4

— Morena Baccarin (@missmorenab) July 8, 2015
.@missmorenab You would see, the biggest gift would be from me… pic.twitter.com/s2FpAxY30Q

— Brianna Hildebrand (@briannahilde) July 8, 2015
.@briannahilde And the card attached would say… pic.twitter.com/4s7W3vYyES

— Ed Skrein (@edskrein) July 8, 2015
@edskrein Eat me. https://t.co/BjDq8Y5khO

— Ryan Reynolds (@VancityReynolds) July 8, 2015
——————————
DEADPOOL
Action-Adventure
Release: February 12, 2016
Director: Tim Miller
Screenplay by: Paul Wernick & Rhett Reese
Producers: Simon Kinberg, Lauren Shuler Donner, Ryan Reynolds
Cast: Ryan Reynolds, Morena Baccarin, Ed Skrein, T.J. Miller, Gina Carano, Brianna Hildebrand
SYNOPSIS
Based upon Marvel Comics' most unconventional anti-hero, DEADPOOL tells the origin story of former Special Forces operative turned mercenary Wade Wilson, who after being subjected to a rogue experiment that leaves him with accelerated healing powers, adopts the alter ego Deadpool. Armed with his new abilities and a dark, twisted sense of humor, Deadpool hunts down the man who nearly destroyed his life.
DEADPOOL Official Socials
Website: http://www.foxmovies.com/deadpool
Facebook: https://www.facebook.com/DeadpoolMovie
Twitter: https://twitter.com/deadpoolmovie
Instagram: https://instagram.com/DeadpoolMovie/
Pinterest: https://www.pinterest.com/DeadpoolMovie/