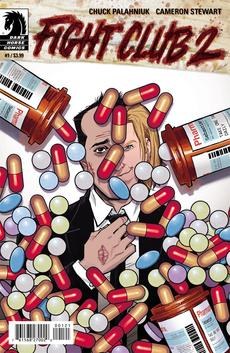 Acclaimed artist Cameron Stewart will be signing copies of the first issue of Fight Club 2 at Forbidden Planet's new Birmingham Megastore on Friday 29th May at 5:00pm and at the London Megastore on Saturday 30th May at 2:00 pm.
Some imaginary friends never go away…
Ten years after starting Project Mayhem, he lives a mundane life. A kid, a wife, pills to keep his destiny at bay. But it won't last long; the wife has seen to that. The time has come…
The sequel to the hit book and movie, written by Chuck Palahniuk.
Cameron Stewart is the writer/illustrator of Batgirl, Fight Club 2, Batman and Robin, BPRD, Seaguy, Seven Soldiers: The Manhattan Guardian, The Other Side, Catwoman, The Apocalipstix, Assassin's Creed, SuicideGirls and many more. He has been nominated for Shuster, Eagle, Harvey and Eisner Awards – and his original webseries Sin Titulo won the 2010 Eisner and Shuster Awards for Best Digital Comic.
Phantom Variant edition available – only from Forbidden Planet in the UK.
Forbidden Planet Birmingham Megastore
74 Bull Street Birmingham B4 6AD
0121 236 3026
Forbidden Planet London Megastore
179 Shaftesbury Avenue, London, WC2H 8JR