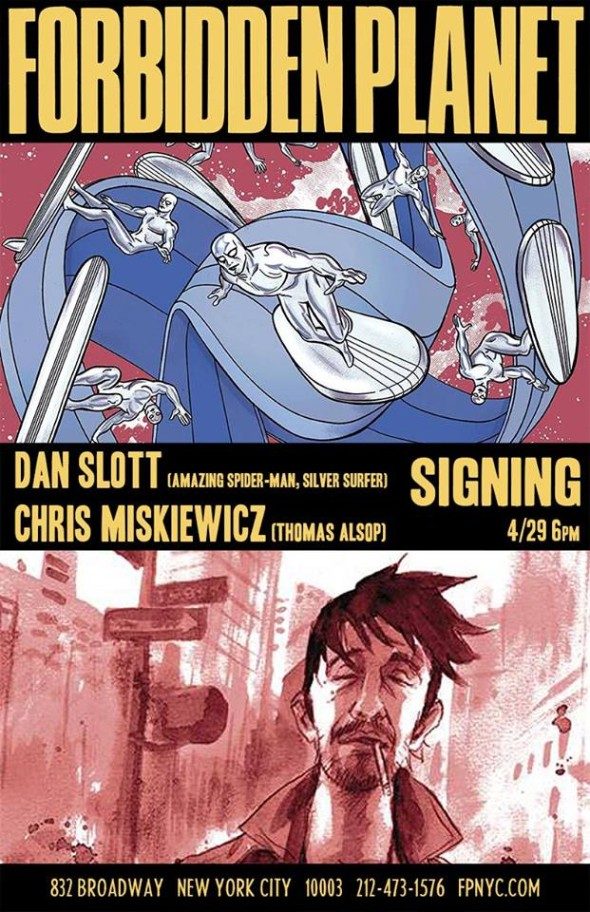 Writers Dan Slott and Chris Miskiewicz will be doing a joint signing on Wednesday, April 29th from 6:00 to 9:00 pm at Forbidden Planet! (To be followed by libations at TBD…)
Silver Surfer #11
Writer: Dan Slott – Art: Michael Allred – Marvel Comics
'Never After' – SPECIAL OVERSIZED ISSUE! Trapped in time, lost in space, with alien threats forever on the attack, and Paradise just outside his reach, what terrible price will the Surfer pay to fulfill his most selfless promise? Slott & Allred are bringing you a modern-day Marvel comic you'll be talking about for years to come. Rated T+
Spider-Verse – Marvel Comics
Writer: Dan Slott – Various
Someone is working their way through the multiverse, leaving a trail of dead spiders in their wake! How can "our" Spider-Man possibly hope to survive against this unstoppable onslaught? Guest-starring every Spider-Man ever…and then some!
S Volume #1 – 04/29/15
Writer: Chris Miskiewicz – Art: Palle Schmidt – BOOM! Studios
Chris Miskiewicz & Palle Schmidt took the comics world by storm when BOOM! Studios released their critically acclaimed breakout series, THOMAS ALSOP voted "Best Mini-Series of 2014" by USA-Today & GeekSushi. Now grab the first volume of the groundbreaking series to read what everyone is talking about! Collecting issues 1 thru 4 of the supernatural adventures of Manhattan's modern Mage.
Forbidden Planet
832 Broadway, New York, NY 10003
212-473-1576