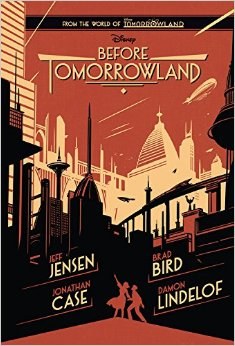 Jonathan Case and Jeff Jensen appear at the University Book Store on Sunday May 3, 2015 at 3:00 PM to sign Before Tomorrowland!
Shrouded in mystery and intrigue, Disney's Tomorrowland is one of the most anticipated movie releases of the summer. Based on its spellbinding world, the deluxe novel Before Tomorrowland reveals the origins of how Tomorrowland came to be. Set in 1939, the exciting story brings together a secret society of geniuses about to reveal an incredible discovery, a half-man, half-machine determined to stop them, a mother and son on vacation at the World's Fair, and a comic book—brought to life in a 20-page full-color insert—that thrusts them into the crossfires of conspiracy. Joining us for a discussion and signing, Jonathan Case and Jeff Jensen, two of the book's authors and illustrators, will introduce the exciting story and invite us all into its captivating world.
Jonathan Case is an artist and writer based in Portland, Oregon. His work includes the graphic novel, Dear Creature, illustrations for the Batman '66 comics, and art for multiple Dark Horse Comics publications, such as The Green River Killer, The Guild, and House of Night. His art is also featured in the Eisner Award-winning anthology, Comic Book Tattoo.
Jeff Jensen is a senior writer for Entertainment Weekly. His true crime graphic novel, The Green River Killer: A True Detective Story garnered rave reviews, including the following quote from Stephen King: "Terrific. It's got the scariest opening sequence I've read in years, and the novel as a whole makes compelling stay-up-late reading. Great, creepy stuff."
University Book Store
4326 University Way NE, Seattle, WA 98105