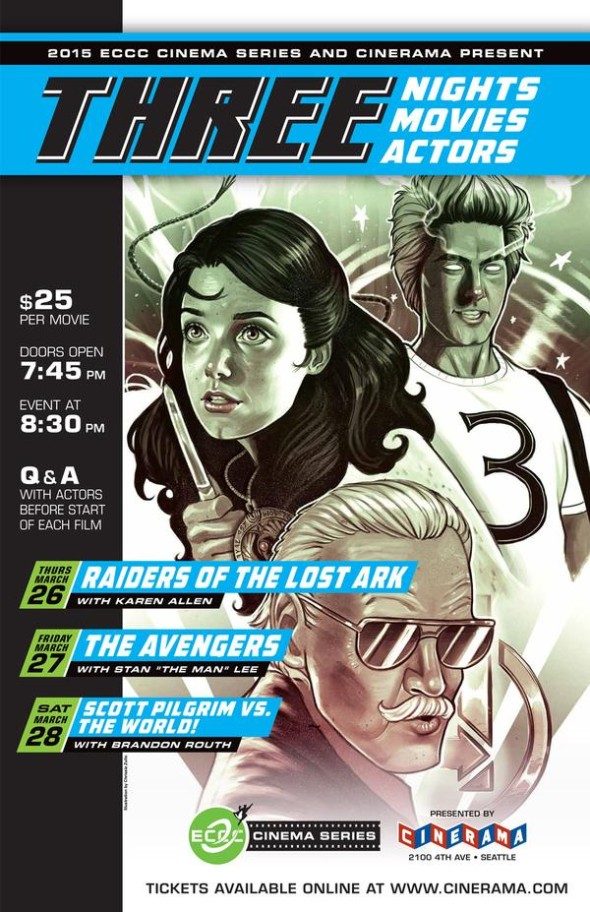 Press Release:
Cinerama and Emerald City Comicon are once again partnering to bring you the Second Annual ECCC Cinema Series! This unique event runs three nights at Seattle's famous Cinerama and brings together movie stars talking about their films in an intimate Q&A before a screening of those same movies in glorious high definition!
On Thursday March 26, come watch one of the best pulp action films of all time, Raiders of the Lost Ark! *Unfortunately Karen Allen has had to cancel her appearance at this event.*
On Friday March 27, it's Excelsior time with Stan "The Man" Lee as he introduces you to the film that brought together the best of Marvel's Cinematic Universe and made them a team, The Avengers! *SOLD OUT.*
On Saturday March 28, don't miss a Q&A with Brandon Routh that you'll tell the cleaning lady about on Monday, before watching the cult hit Scott Pilgrim vs. The World! *Unfortunately Brandon Routh has had to cancel his appearance at this event.*
All Q&A's will begin at 8:30 pm, with the screenings at 9:00 pm. The Q&As will be hosted by Mike Robles. Tickets are $25 each, and available directly from Cinerama.
Poster art by Chrissie Zullo
Cinerama
2100 4th Ave Seattle, WA 98121