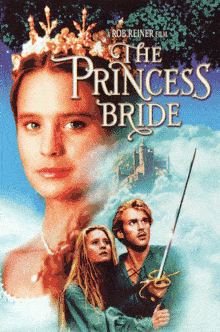 Cary Elwes appears at a special midnight screening of The Princess Bride on Friday February 20, 2015! Elwes will also sign his new memoir AS YOU WISH.
Press Release:
Want to keep Valentine's day going? We've got the thing for you! THE PRINCESS BRIDE starring Cary Elwes, Robin Wright, Mandy Patinkin, Billy Crystal, and Andre The Giant will screen at midnight with a Q&A by The Dread Pirate Roberts himself- CARY ELWES! Cary will be signing his new book (he will only be signing the book at this time) with detailed memoirs of the filming of Princess Bride (books available for purchase on site) from 10:15-11:30. We will also be immortalizing Cary w/ a handprint ceremony, placing those expert fencing hands into the cement outside the lovely Vista Theatre to commemorate the occasion! This ceremony will be around 11pm and we'd love all the awesome Cary/Princess Bride fans to be there for this moment! Please spread the word and bring friends so we can continue to bring your favorite movies back to life the way they should be seen!
Tickets will be $11.50, sold online and at the box-office on-site. Due to an appearance from the film's star we would highly suggest early purchase to guarantee you get a ticket.
**We love an excuse for super enthusiastic fans to dress up, so if you wanna wear a costume we love it! We always have prizes on deck and may award them to costumed guests! Any themed/era costume is fine, you don't specifically need to be a character from this month's film!
Once a month the NERDS LIKE US series takes over the lovely Vista Theatre, one of the last remaining single-screen art-house theatres in the city. We bring back 80s and 90s classics for a night of fun with other people who appreciate this era. If you grew up watching these classics on VHS or Laserdisc (say-what?), but never got to watch them on the big screen this is the series for you!
**Parking is street only. Make sure to read all signs and do not park in valet or paid parking lots, they WILL close at 2am. You may park at the VONS across the street but most park in the row furthest east and go in to be put on the manager's list for Midnight Movie goers**
*Important request- we understand the nature of midnight films draws a more fun and fanatical crowd! We absolutely embrace this and we love when people sing-along with musical numbers or quote along with famous lines. Please, however, respect other theatre goers who are enjoying these films for the first time in decades on the screen and don't have loud "living-room" style conversation in the theatre. Thanks, and enjoy the show!
The Vista Theatre
4473 S. Sunset Drive, Los Angeles, CA 90027