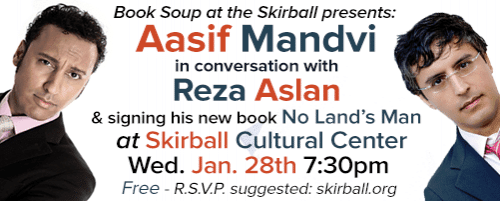 Aasif Mandvi appears in conversation with Reza Aslan on Wednesday, January 28, 2015 at 7:30 pm! Reserve free tickets at the link…
ABOUT THE PROGRAM
Presented as part of Book Soup at the Skirball, comedian Aasif Mandvi (The Daily Show with Jon Stewart) discusses his new memoir, No Land's Man, with writer and scholar Reza Aslan.
If you're an Indo-Muslim-British-American actor who has spent more time in bars than mosques over the past few decades, turns out it's a little tough to explain who you are or where you are from. In No Land's Man Mandvi explores this and other conundrums through humorous stories about his family, ambition, desire, and culture that range from dealing with his brunch-obsessed father to his high school career as a Michael Jackson impersonator to joining a Bible study group in order to seduce a nice Christian girl to improbably becoming America's favorite Muslim/Indian/Arab/brown/doctor correspondent on The Daily Show.
Mandvi's hilarious and passionate description of his journey will resonate with anyone who has had to navigate the murky space between lands. Or anyone who really loves brunch.
A book signing follows the program.
Watch the official book trailer for No Man's Land at the link…
Skirball Cultural Center
2701 North Sepulveda Blvd., Los Angeles, CA 90049