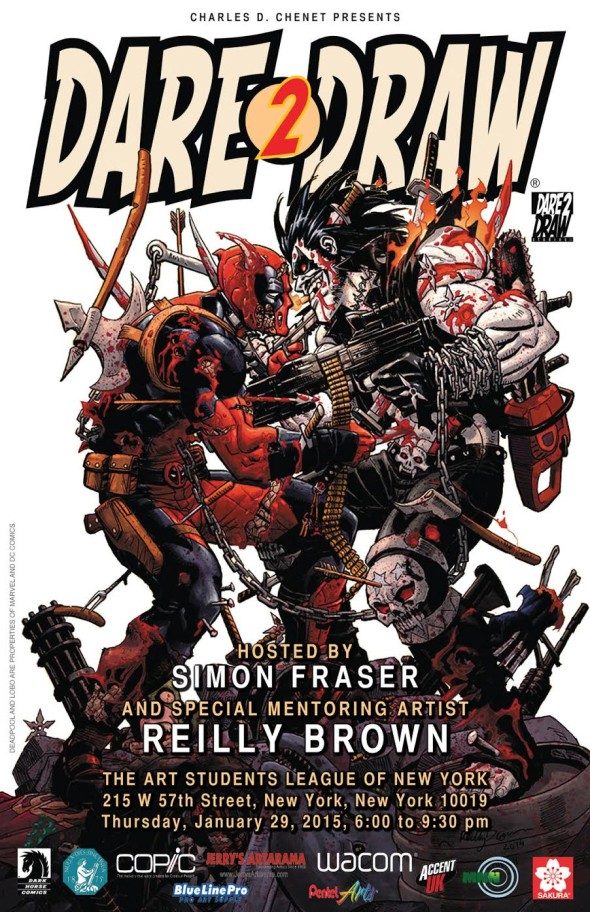 Press Release:
The Art Students League of NY will be hosting their first Dare2Draw, on Thursday, January 29th, at the Phyllis Harriman Mason Gallery!
The Art Students League has a deep and rich history of providing a place for some of America's top comic book artists, to develop their skills. The Dare2Draw Program will be part of the long tradition of the League, of providing an oasis for all artists to follow and develop their passion.
Here are some of the comic book greats that have attended the Art Students League of NY, to name just a few… Jack Kirby, Will Eisner, Jack Davis, Irwin Hasen, Gene Colan, Roy G. Krenkel, Al Feldstein, Bob Kane, Lou Fine, Carmine Infantino, Joe Orlando, Jack Kamen, Tom Palmer, Arthur Suydam, Mark Texeira and Josef Rubinstein.
Come Dare2Draw with Special Mentoring Guest Artist: Reilly Brown! (The new DC "Lobo", "Deadpool" and his groundbreaking, creator-owned "Power Play")
Hosted by our good friend and mentor: Simon Fraser! (The new "Dr. Who", "Judge Dredd" and "Nikolai Dante")
Reilly Brown will be talking to us about his trailblazing into the new frontier of creator-owned digital comics, and sharing about his experiences working for Marvel and DC Comics, as well as sharing some art tips with us.
Also, joining us to celebrate this first Dare2Draw at ASL will be journalist, writer, editor and filmmaker Annie Nocenti and comic book artist and illustrator, Josh Adams!​
Tickets available at the link.
​The ​Art Students League of NY
215 West 57th St, New York, NY 10019