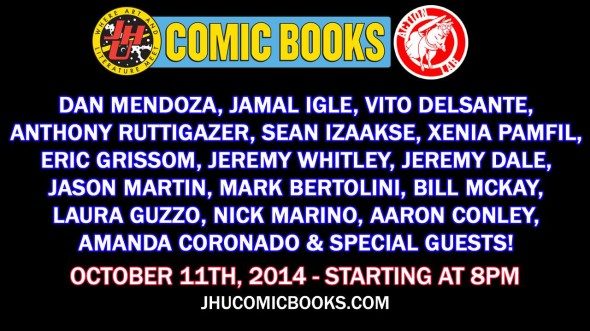 JHU Comic Books hosts a signing with the creators of Action Lab Entertainment on Saturday, October 11th at 8:00 pm! Guests include:
Xenia Pamfil (creator of Mishka and the Sea Devil) Her appearance is made possible by Romanian Cultural Institute in New York, as this is her only visit to NYC!
Dan Mendoza (Zombie Tramp Creator)
Jamal Igle (Molly Danger)
Vito Delsante (writer/ creator of Stray)
Sean Izaakse (Artist of Stray)
Anthony Ruttgaizer (writer/ creator of The F1rst Hero)
Eric Grissom (writer/creator of Planet Gigantic)
Jeremy Whitley (creator of Princeless)
Jeremy Dale (creator of SKYWARD)
Jason Martin (Zombie Tramp)
Marcus Williams (Artist of Hero Cats)
Mark Bertolini (creator/writer of Crimson Society)
Bill McKay (Artist of Night of the 80s Undead)
Laura Guzzo (Princeless)
Nick Marino (creator of Holy F*ck)
Aaron Conley (artist of Dark Horse comics' Sabertooth Swordsman)
Amanda Coronado (Artist of Vamplets)
and some Surprise Guests!
JHU Comic Books MANHATTAN
32 East 32nd Street, New York, NY 10016
(212) 268-7088