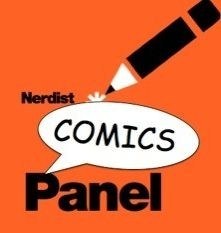 Mega-star writer Brian Michael Bendis (Guardians of the Galaxy; All-New X-Men; Powers; Scarlet; Ultimate Spider-Man and lots more!) joins hosts Ben Blacker (Thunderbolts; Thrilling Adventure Hour) and Heath Corson (Batman: Assault on Arkham) at Rock Bar on Friday, October 10, 2014 from 6:00 PM to 7:00 PM for a special New York Super Week edition of Nerdist Comics Panel in which will be discussed the process and business of writing comic books, his work in other media, the creation of Miles Morales the Ultimate Spider-Man, and his new book, Words for Pictures: The Art and Business of Writing Comics which discusses many of the interests of this very podcast!
Just announced! Artists Alex Maleev (Daredevil), Mike Oeming (Powers), and David Mack (Kabuki) will be live-sketching and the sketches will be auctioned off for the charity at the event.
For more info click the link! Hear past episodes! Proceeds from this and all nerdist Comics Panels benefit 826, the national nonprofit program to encourage creative writing in students. This one in particular benefits local 826 NYC. www.nyc.org
Get tickets ($10) at the link!
Rock Bar
185 Christopher Street, New York, NY 10014
(212) 675-1864