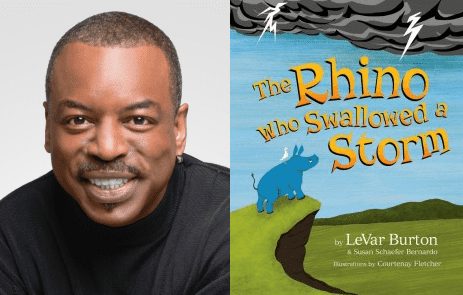 LeVar Burton appears at the Santa Monica Public Library on Saturday, October 18th from 3:00pm – 5:00pm!
Press Release:
Santa Monica Public Library is honored to welcome acclaimed actor and children's literacy advocate LeVar Burton for the launch of his first-ever picture book, published by Reading Rainbow. The Rhino Who Swallowed a Storm is a story designed for parents and kids to read together when facing stressful or difficult situations. The book emphasizes the helpers and positives in a child's world and the value in having friends and family work together to get through tough times. A book sale and signing follows Mr. Burton's talk.
This program is free and open to all ages, but is a ticketed event. Free tickets for auditorium seating will be released one hour prior to the program. No reservations available. Book sales provided at the library during the program thanks to our pals at Barnes & Noble Santa Monica. Mr. Burton will only sign copies of THE RHINO WHO SWALLOWED A STORM. No memorabilia please.
Santa Monica Public Library
601 Santa Monica Blvd, Santa Monica, CA 90401
(310) 458-8600