It is a truth universally acknowledged . . . No. Let me rephrase. Waiting sucks.
I was in line at the Donald E. Stephens Convention Center in Rosemont, IL. Shoulders smarting, back stiff as a statute, legs wobbly like a wooden easel, I was waiting for Josh Peck, a guest at this year's (August 21-24) Chicago Wizard World Con. Josh is best known for starring opposite Drake Bell in the Nicklodeon show Drake & Josh. My daughter loved that show, and I was standing in line for her.
Josh finally arrived, and a great cheer went up–until he realized neither he nor his handler had any photos for him to sign. So we waited another 20 minutes. Chatted him up (his take on appearing in the remake of Red Dawn: "Awesome."). Someone asked if he would yell "Megan!", his signature line from Drake & Josh; he politely declined. Oh, and I got a selfie.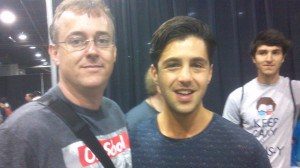 (OK, it wasn't a selfie; I asked someone to take the pic. Shows you how superannuated I am.)
Josh was friendly but ill-at-ease. You could tell he was a convention novice, as opposed to, say, Lou Ferrigno. A regular at Wizard World cons, Lou is best known for his role as the Hulk in the 1978 CBS television series. I got a chance to talk to him for a few minutes.
Me: How did you get started doing conventions?
Lou: I was out with a friend of mine one time, and I went to a place in Hollywood where they had a convention. I walked around, and they kept telling me I ought to do a convention because the fans really want my autograph. I'm so used to giving autographs, and I thought, why not have a table? That's how it started. It's a good living.
Me: How long have you been doing conventions?
Lou: About 15 years.
Me: What are some crazy fan stories you can share?
Lou: I had a woman one time who came to me about a year ago, and she had a Hulk tattoo on her leg, and she had my signature tattooed on her leg. She had both legs done, and she wanted to take a picture, and her husband is standing there looking like, every morning I have to get up and look at my wife's legs with your signature and the Hulk's picture.
Me: I guess we saw where her loyalties lie. How did you get into character to play the Hulk?
Lou: It came naturally to me. I use pantomiming, acting without speaking, and they just loved it. I used the sensitive part of me to become the character.
Me: You have talked a lot about an actual actor playing the Hulk versus CGI. You've said people have told you they preferred your version.
Lou: Over 90% of the people have said that.
Me: Why do you think that is?
Lou: CGI cannot compete with a human Hulk. There is no sensitivity. The Hulk, the character I created, with his vulnerability and sensitivity—it can never be replaced.
Me: When I was growing up, my mother didn't let me watch the Hulk because she said he was "vulgar." Did you ever get negative comments from people who didn't like the character?
Lou: The only negative was a lot of mothers hated me because their sons ripped their shirts and walked around the house that way.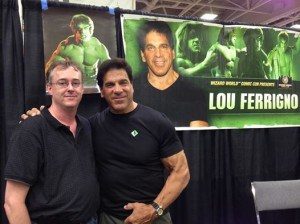 Another headliner was Stan Lee, whose first autograph session was scheduled for 5:00pm on Friday. I had paid online for an autograph ($80!), and though the ticket was good all weekend, I thought going the first day would help me eschew half-day lines. At 4:00, I strolled to his booth, saw about 20 people standing there, and got in line. Wonderful! I thought. Then: this doesn't seem right. Next, I noticed three things in the span of 10 seconds:
The Stan Lee VIP badges around the necks of the people in front of me;

To my left, a separate line of proletariat-looking people, where I clearly belonged; and
A con staffer walking toward me.
Once I was moved to the correct line, I waited about an hour, which isn't bad. At one point, someone said Stan Lee was somewhere in the exhibit hall posing for pictures FREE. I found him, took this picture, and noticed something strange. Do you see it too?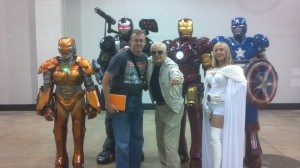 Five points to Gryffindor if you recognize that this person isn't Stan Lee. I don't know whether he was a cosplayer, a doppleganger, or something else, but I later got a candid (read: surreptitious) pic of the real deal.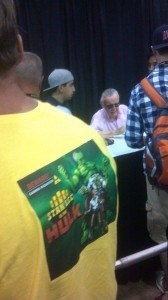 Stan was terrific, charming and humble, and his line managers took a bend-but-don't-break approach that I appreciated. In fact, all the crowds were well managed. One helpful feature was a signing schedule at every celebrity's booth, like this one at Josh Peck's.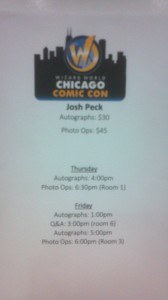 Despite being the biggest event in the Wizard World portfolio, Chicago was a delight. I did a lot of waiting, but that is unavoidable, and I passed the time gawking at some world-class cosplayers. The rooms were laid out well, prices were clearly advertised, most things happened on time, and I saw little tension among staff or attendees. CGC was doing comic book grading on site, and that also went well, probably because Stan Lee had his own booth.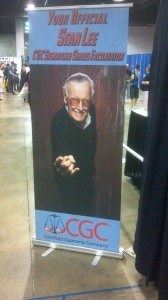 If you go to only one Wizard World con ever, make it Chicago. You'll have a ball. Here are a few more pics to show you why.
No, this isn't security removing an unruly attendee; it's just a cadre of cosplayers.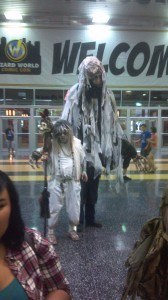 The long and short of it.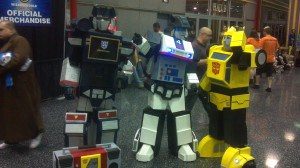 Doin' the Cybertron shuffle.
Looking forward to the Ant Man movie in 2015.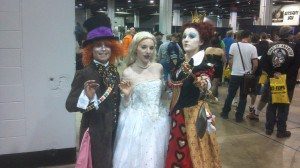 Even the queen had a good time hanging with a few (dis)loyal subjects.