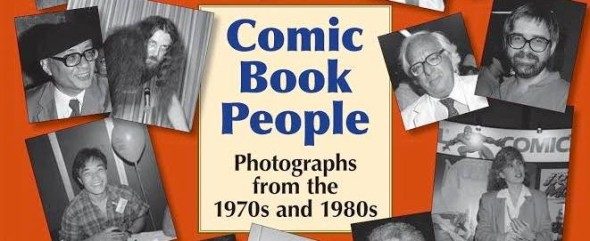 Meet photographer/author Jackie Estrada at Earth-2 Comics on Saturday, September 13th at 4:00 PM and get a signed copy of this amazing coffee-table time machine! Jackie will also offer a brief history of the early days of comic book conventions and fandom.
Refreshments will be served.
About the Author
Longtime comics industry insider Jackie Estrada is releasing her book Comic Book People: Photographs from the 1970s and 1980s, a unique peek at the early days of comics conventions before they were big pop culture events, when the giants of the industry mingled casually with their peers and fans.
The high-quality hardcover coffee-table book features some 600 candid photos of comics creators taken in the 1970s and 1980s, along with commentary and anecdotes about each person.
Jackie Estrada has been a comics fan since the 1960s and has been to every San Diego Comic-Con, as well as to numerous other comics, science fiction, and similar fan events over the last four decades. Her involvement in comics has included editing publications for Comic-Con, serving as the administrator of the Will Eisner Comic Industry Awards since 1990, serving as president of Friends of Lulu, and being the co-publisher of Exhibit A Press, which produces her husband Batton Lash's Supernatural Law graphic novels.
Her photos of comics creators have appeared in numerous books and publications, from Paul Levitz's 75 Years of DC Comics and Julius Schwartz's autobiography Man of Two Worlds to Alter Ego and Comics Buyer's Guide. Most prominently, dozens of her photos were used in Dark Horse's Comics: Between the Panels and in Comic-Con: 40 Years of Artists, Writers, Fans, and Friends. Most recently, her photos could be seen in the PBS special on the history of superheroes.
The candid photos depict not only Golden and Silver Age comic book greats and mainstream creators of the period but also publishers and editors, underground and alternative cartoonists, big-name fans, comic strip cartoonists, animation directors and voice actors, science fiction and fantasy authors, and movie and TV celebrities.
Earth-2 Comics
15017 Ventura Blvd, Sherman Oaks, CA 91403
(818) 386-9590