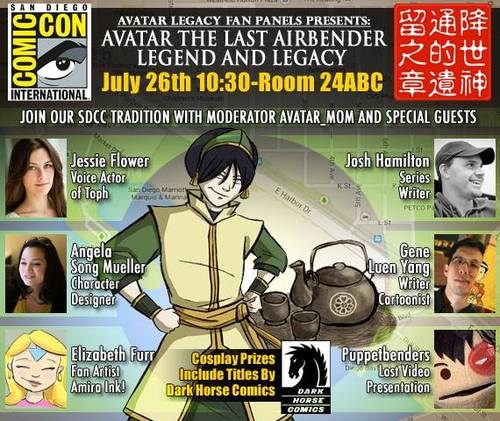 For over 5 years, The Avatar Legacy Fan Panel has proudly organized this gathering.
Moderator Avatar_Mom, Kevin Coppa (Puppetbenders), Elizabeth Furr (fan artist/Amira Ink!), Gene Luen Yang (writer/cartoonist), Angela Song Mueller (character designer), Josh Hamilton (writer), and Jessie Flower (voice actor for Toph) share stories and answer questions about the Nickelodeon series Avatar: The Last Airbender and The Legend of Korra!
Cosplayers, practice your stance for the cosplay contest! Cosplay prizes include titles from Dark Horse Comics.
Saturday, July 26 • 10:30am – 11:30am :: Room 24ABC