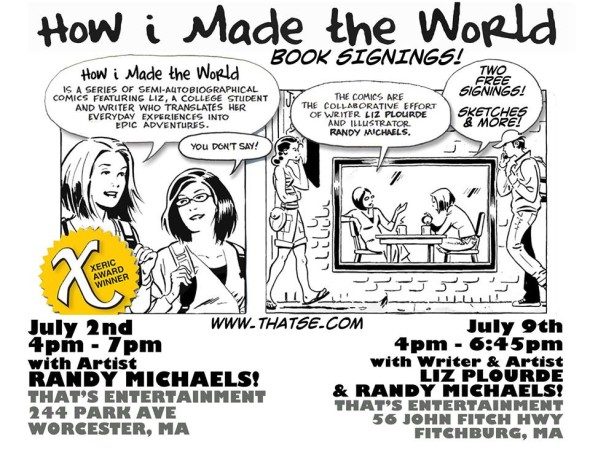 Press Release:
That's Entertainment presents comic book signing events at their locations in Worcester and in Fitchburg on July 2 and 9, respectively. Creators of a newly-released Xeric Grant winning comic book called "How i Made the World" will be on hand on those two Wednesday evenings to sign copies of their work, and to chat with fans and aspiring comic book creators. The event is free and open to the public.
Artist Randy Michaels is set to be at Thats Entertainment, 244 Park Avenue in Worcester on July 2 (4:00 to 7:00 p.m.); both Michaels and writer Liz Plourde will be at the 56 John Fitch Highway, Fitchburg signing on July 9 (4:00 to 6:45 p.m.). Michaels will also be adding free sketches of a character from "How i Made the World" to the covers of the comics purchased by fans.
"How i Made the World" is a semi-autobiographical story about a college student and writer who is assigned a challenging art project; the work begins to consume her thoughts and restless nights until an epiphany brings all the details of the story together. The central character, in the words of Plourde, translates her everyday experiences into epic adventures. Advance reviews from industry websites and publications have praised the synergy between writer and artist, as well as the strong prose, memorable supporting characters and lovely, clean artwork. These are some of the characteristics that propelled this engaging slice-of-life comic to victory in the competition for the coveted Xeric Grant.
Ken Carson, manager of Thats Entertainment, says the comic belongs with other great, non-superhero or alternative comics like Love & Rockets and Optic Nerve. There is a very persistent, devoted market for this type of clever and literary comic. To me, its very character-driven. I really enjoyed spending time in the setting Liz and Randy created.
The Xeric Foundation is a private, nonprofit corporation based in Northampton, Massachusetts, which for twenty years awarded self-publishing grants to comic book creators. The Xeric Foundation was established by Peter Laird, co-creator of the "Teenage Mutant Ninja Turtles". A few years ago, the Foundation announced it would award publishing grants for only a short time longer, changing their focus to charitable work, including fostering environmentalism, literacy, and the arts. Fortunately for Plourde and Michaels, How i Made the World was submitted just in time and awarded one of the final grants. The sole major wholesaler to comic book shops, Diamond Distributors, then accepted the comic for solicitation to retailers, which also gave How i Made the World an important edge over most self-published comics.
Michaels and Plourde, who both currently live in southern New Hampshire, have strong ties to the Central New England area. Michaels works in illustration and TV production, and Plourde currently teaches at Mt. Washington College.