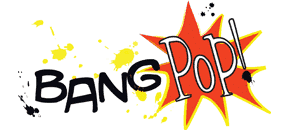 Convention Name
BangPop! Comic Con
Convention Website Address
http://www.bangpopmaine.com
This convention will take place:
Start Date (Format mm/dd/yyyy)
09/20/2014
End Date (Format mm/dd/yyyy)
09/21/2014
About This Convention
The BangPop! Comic & Pop Culture Convention returns September 20th & 21st at the Cross Insurance Center in Bangor! BangPop! Comic Con brings a vibrant weekend of panel discussions, educator workshops, gaming, cosplay, and anime & movie screenings, and a great display of creative talent with professional authors and artists. Our Artist Alley showcases amazing work by creators from Maine, New England and the Canadian Maritimes. Vendors and Special Guests are on hand all weekend to sate your desire for comics, books, art and more. It's a chance to meet your favorite artists, illustrators, and writers – see their work, hear them speak and catch up on the newest talk of the comic sphere.
Venue Name and Address
Cross Insurance Center
515 Main Street
Bangor, ME 04401
United States
Map It
Number of Dealer/Exhibitor Tables
24
Projected Attendance
2000
Please select the Category that best describes the convention
Comic Books
Additional Categories

Anime
Book Festival
Gaming
Horror
Science Fiction and Fantasy
Collectibles

Guests
CP Wilson III, Fred Van Lente, Rich Woodall, Matt Miner, Christopher Mills, Alex Irvine, Mark Ricketts & more!