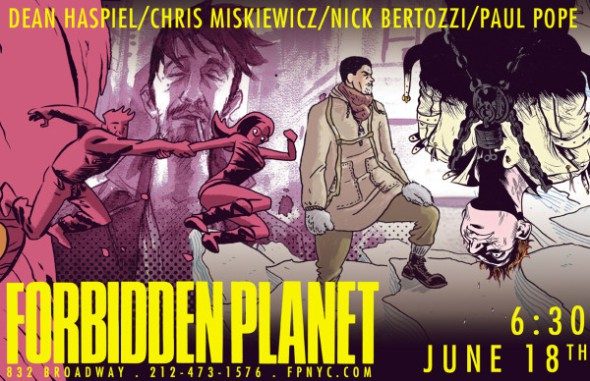 PAUL POPE, DEAN HASPIEL, NICK BERTOZZI, CHRIS MISKIEWICZ, and *just added* BOB FINGERMAN all four of whom will be celebrating the release of new comics, graphic novels, and/or editions of their iconic work, appear at Forbidden Planet on Wednesday June 18, 2014 at 6:30 pm!
Purchase of Escapo from Forbidden Planet NYC is mandatory to attend the Paul Pope side of our event. Your receipt, and a voucher we will attach to it at checkout, will be your ticket to Paul's line. We anticipate a large turnout for him, and are limiting additional autographs ONE ITEM per attendee to keep things moving. Please do not bring more than that.
**If you will be here to see Dean, Nick and/or Chris we also encourage purchase of their books (and will have plenty of 'em… they're well worth it), but there will be no limit to additional autographs.
Forbidden Planet
832 Broadway, New York, NY 10003
212-473-1576