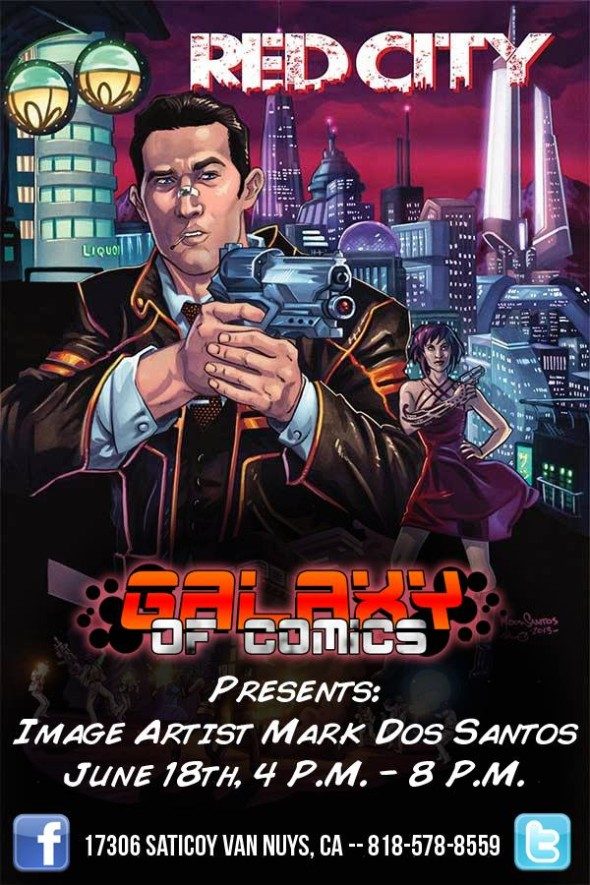 Press Release:
Galaxy of Comics Proudly presents MARK DOS SANTOS (Grimm Fairy Tales, Dames In The Atomic Age, Fall of Cthulhu: Godwar, Cthulhu Tales), signing his new book from Image comics, Red City #1, Wednesday, June 18th, 2014, from 4 PM to 8 PM!
In the wake of a system-wide civil war, hard-nosed interplanetary investigator Cal Talmage is given a simple mission to find a missing ambassador's daughter in Mars Central City. "You might say RED CITY is like L.A. Confidential on Mars," said writer Daniel Corey. "Ellroy and Chandler shaking hands with Bradbury. The really exciting thing is that we're building an entire world, and the art of Mark Dos Santos brings a retro-futuristic vibe that will make RED CITY the most dangerous place in the New Solar System."
Image Comics is one of the largest comic book publishers in North America, producing numerous award winning and award nominated series with the industry's top talent. And now we have one of it's hottest up-and-coming artists, Mark Dos Santos, here to SIGN his RED CITY #1!
(In addition, Mark will be holding a raffle to give away original art for Red City issue #2!!! Buy Red City #1 and pre-pay for his upcoming Imperial #1 and get a raffle ticket. First prize will be the original art for Red City issue #2. 2nd prize will be three (3) signed prints of their choice. Third prize will be one (1) signed print of their choice.)
So, stop by the Galaxy of Comics, chat with Mark and get your copy of Red City #1 signed by Image's newest up-and-coming star!!!
Galaxy of Comics
17306 Saticoy Street, Van Nuys, CA 91406
(818) 578-8559