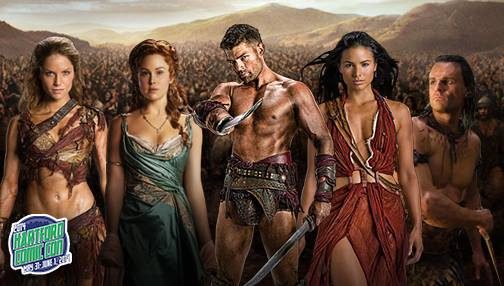 Press Release:
Hartford Comic Con is this weekend! Holy Smokes Batman!
HCC features top celebrity talents like:
Michael Massee: Amazing Spider-Man 1 & 2
Giancarlo Esposito: Breaking Bad, Revolution, Once Upon A Time
Katrina Law: Spartacus, Arrow
*NEW* Liam McIntyre: Spartacus
*NEW* Kyla Kenedy: Walking Dead
*NEW* Ellen Hollman: Spartacus
*NEW* Steven Dunlevy: Spartacus
*NEW* Anna Hutchinson: Spartacus, Cabin in the Woods, Power Rangers
Brando Eaton: Dexter, Cabin Fever, Zoey 101
TOP COMIC CREATORS!
We have the comic industries top talents including special guests X-Men's Ed McGuinness, Tim Sale from Captain America, Jimmy Cheung from Original Sin, Eisner winning cover artist: The Reverend Dave Johnson, Kaare Andrews from Iron Fist, Shelli Paroline and Braden Lamb from Adventure Time and The Midas Flesh, Sam Ellis from Archer, David Rodriguez from Skylanders, Matthew Dow Smith and Blair Shedd from Doctor Who, Sara Richard and Agnes Garbowska from My Little Pony, Craig Rousseau from Batman '66, the crews from Big Dog Ink and Station Studios and so many more!
Game ON!
League of Legends live tournament is available! Shout casted by Brando Eaton and guests. Magic Draft Events and Yu-gi-oh Box Tournaments are also available for sign up. Sign up now for chances to win fantastic prizes and get your game on!
KIDS rule at HCC!
Introducing a full KidConn to happening during the two days of fun.
Cosplay your thing?
Bringing their creative skills are Riddle1, BelleChere, Nadyasonika, Nikkinevermore, Echo Endless, and Miggy Jagger!
We offer fun for the whole family!
Special events!
Gallery Show at the Tobacco Shop, Drink and Draw at McKinnon's Irish Pub, and the after party at City Steam Brewery! Full details at the link!
Expected attendance will reach 12-15 thousand our first year!
Tickets are available for online purchase here…
Hartford Comic Con will take place on May 31 – June 1, 2014 at the XL Center in Hartford, CT. For more information, tickets, registration, and the complete list of guests please check out the website: www.hartfordcomiccon.com and follow them on Twitter (@ HartfordCon) and Facebook!