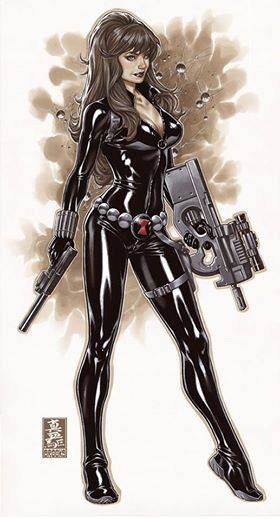 Press Release:
The Art Auction will be held on Saturday May 17th, 2014. The blind auction will run throughout the day in the art gallery in the back of the hall, and will wrap up at 5:30 PM Interested parties must sign up for a bidder/paddle number and then can begin placing blind bids on the art they are interested in. Contributors include Mark Brooks (seen at left), Charlie Adlard, Frank Cho, Sanjulian, Michael Lark, Justin Greenwood, Toshio Maeda, Darick Robertson, Bill Morrison, and many many others! Full details at the link!
Art that does not receive three bids will sell for the highest offer at 5:30 PM, and ones that do get at least three bids will be placed in the live auction that begins at 6:30 PM in convention hall room B. Writer Ken Kristensen will be helping emcee the auction so if you are a Todd the Ugliest Kid on Earth fan, this will be a fun chance to hang out with Ken and hopefully buy some art! There will be a cash bar in the room, and hopefully a number artists that submitted their works to the auction in attendance.
Founded in 1979 as "Super-Con", Big Wow! Comic Fest is not only Northern California's Longest-Running Comic-Con, but is this year's Only Major Comics Event in the San Francisco Bay Area! As the Original Artist-Friendly Show, we have Fantastic Comic Book Creator Guests spanning all decades and genres! This year we are pleased to welcome as our Featured Guests:  Charlie Adlard (Artist for the popular "Walking Dead" series), Legendary Illustrator Neal Adams (Batman, X-Men, Avengers), Hellboy Creator Mike Mignola, Fan-Favorites Travis Charest (Weapons of the Metabarons), Art Adams (X-Men, Godzilla), and more Special Guests including: Dan Brereton (Nocturnals), Mike Zeck (Punisher, Spider-Man, Secret Wars), Joe Linsner (Dawn), Bill Morrison (The Simpsons, Futurama, Disney Poster Artist), Alex Nino (Dead Ahead), Sergio Aragones (Mad Magazine, Groo the Wanderer), Liam Sharp (Gears of War), and many more confirmed and added to our website! Over 200 Comic Creators!
Tickets are available at the link. And we have tickets available at over 30 participating comic book stores around Northern California.
Admission is only:
1 Day Adult $25.00 (at the door)
2 Day Adult $35.00 (at the door)
1 Day Child (8-14) $10.00 (at the door)
2 Day Child $15.00 (at the door)
CHILDREN UNDER 8 ARE FREE!
*Save $5.00 Off Admission! Buy tickets online, or at many local Comic Book Stores!
Be sure to follow us on both Facebook and Twitter to stay up-to-date on all our upcoming announcements!