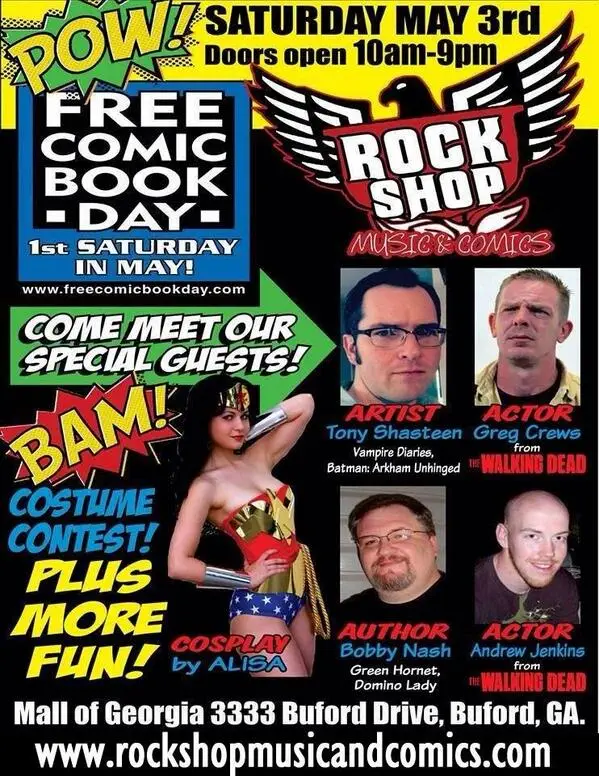 Tony Shasteen, Dean Trippe, Andrew Jenkins, Greg Crews, Bobby Nash, and Alisa appear at Rock Shop on Saturday May 3, 2014 for Free Comic Book Day!
Press Release:
FREE COMICS! Massive Sale! Creator Signings! Walking Dead Zombies! Superheroes, Costume Contest and more!
FIRST 50 CUSTOMERS WILL RECEIVE A FREE GOODIE BAG WITH ADDITIONAL FREE COMICS. 1 RANDOM BAG WILL CONTAIN A $20 ROCK SHOP GIFT CARD!!!
Special Guests:
TONY SHASTEEN (Artist of Vampire Diaries, Batman: Arkham Unhinged, Burn Notice, Steven King's and Peter Straub's Talisman)
ANDREW JENKINS and GREG CREWS (AMC's Walking Dead)
DEAN TRIPPE (Something Terrible, Project Rooftop)
BOBBY NASH (Green Hornet, Domino Lady, The Spider)
ALISA world famous cos-play model and THE Supergirl.
ZOMBIECIDE Game Demo from 11-8pm!
*********** SALE ALL DAY LONG ***********
50% OFF COMIC BOOK BACK ISSUES
25% OFF NEW COMICS (EXCLUDING "THIS WEEK'S")
DOLLAR COMICS: 3 FOR $1
SILVER/BRONZE/WALL COMICS 30% OFF
TOYS/ACTION FIGURES/STATUES 20% OFF
TRADE PAPERBACKS/HARDCOVERS 25% OFF
GAMES 20% OFF
SHIRTS AND APPAREL 20% OFF
Rock Shop
3333 Buford Drive Ste 2047B, Buford, GA 30519
(678) 482-0091