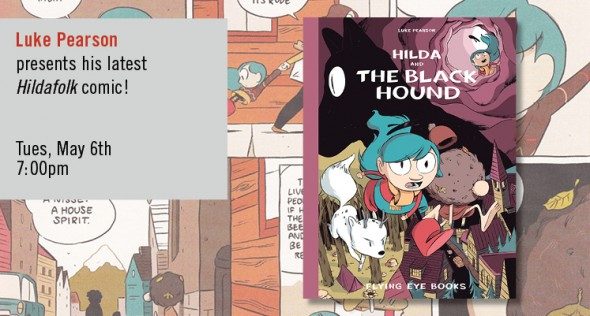 British cartoonist Luke Pearson appears at the Strand Book Store on Tuesday May 6th from 7:00PM – 8:00PM!
Luke Pearson has gained wide acclaim for his striking illustrations and complex, multivalent comics. His Hildafolk series contains Luke's signature blend of exuberant visuals and dark, whimsical stories. To celebrate the release of the latest Hildafolk book, Luke will chat about his work and sign copies of Hilda and The Black Hound for fans in our rare book room. This fourth book in the series chronicles the adventurous Hilda and her companion Twig (a blue fox with antlers) in their encounters with the Nisse, creatures who live in a mirror world "where the rules of physics don't quite match up."
Luke's work has been praised as "glorious, exciting if also rather menacing" by the New York Times. Of the series, Slate has said "It's hard to imagine a better all-ages comic." Join us for an evening with an exciting talent in comics!
Buy a copy of Hilda and the Black Hound or a $15 Strand gift card in order to attend this event. All options admit one person. Please note that payment is required for all online event orders at the time of checkout. The event will be located in the Strand's 3rd floor Rare Book Room at our store at 828 Broadway at 12th Street.
Strand Book Store
828 Broadway, New York, NY, 10003-4805
(at 12th St.)