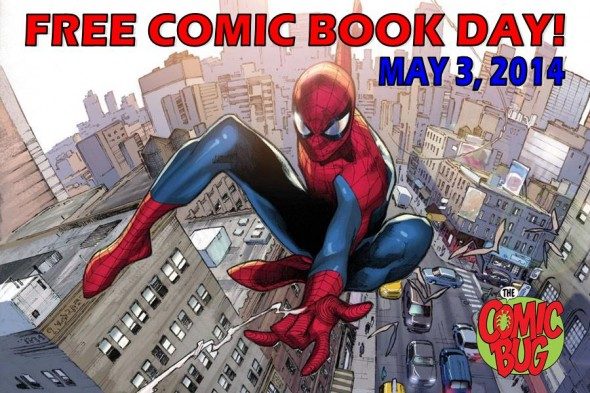 Richard Starkings, Rafael Navarro, Phil Ortiz, and many more sign at The Comic Bug on Saturday May 3rd for Free Comic Book Day!
Press Release: 
Here it is, folks! THOUSANDS of FREE COMICS! A dozen FANTASTIC comic creators! Costumed heroes! Food trucks! Deep discounts! And, did we mention, FREE COMICS?!
Get ready for this summer's GUARDIANS OF THE GALAXY blockbuster with FREE Guardians of the Galaxy and Rocket Raccoon comics! Dive into the future of the DC UNIVERSE with a FREE "Future's End" comic! Sample some of the best independent comics past and present with OVER 55 FREE COMIC PUBLICATIONS! Of course, supplies are limited, so check out the full line-up HERE and make your "wish list."
In addition to FREE COMICS, we have some of the finest comic book creators in the industry on-hand to say "hello" and show off their terrific work:
Richard Starkings (ELEPHANTMEN)
Rafael Navarro (SONAMBULO, GUNS A'BLAZIN')
Jeff Stokely (THE REASON FOR DRAGONS, SIX GUN GORILLA)
Michael O'Hare (MASTERS OF THE UNIVERSE)
Phil Ortiz (THE SIMPSONS)
Ray Anthony Height (MIDNIGHT TIGER)
Ralph Miranda (MAN FIGHTING STREET)
Chris Kawagiwa (THE TELL)
Lord Mesa (CHIBI HERO PRINTS)
Axel Ortiz (G.E.E.K.)
…and more to be announced!
Hungry? We've got FOOD TRUCKS!
STREET KINGS
A ROCKIN' ICE
Thirsty? Our friends at JARRITOS have provided HUNDREDS of bottles of FREE, delicious soda!
Lonely? Both WONDER WOMAN and SPIDER-MAN will be here to take PHOTOS with you!
We'll have big discounts on everything in the store (TBA) and 20% of all purchases on Free Comic Book Day will be going to the Bill Mantlo Support Fund. Mr. Mantlo is the creator of ROCKET RACCOON along with lots of other great characters from the bronze age and has been under care for over 20 years after being struck by a car while riding his bike. You can read more about Bill here.
This is going to be a FREE COMIC BOOK DAY like none other! Sorry for all the links, but they're portals to all the goodness that we have in store for you, right here on May 3rd!
The Comic Bug
1807 Manhattan Beach Boulevard, Manhattan Beach, CA 90266
(310) 372-6704