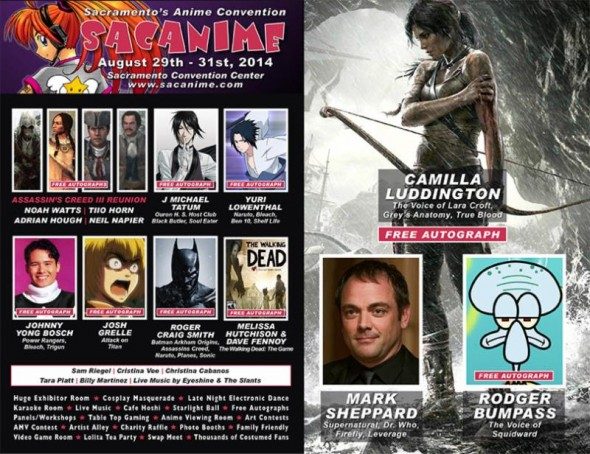 SacAnime welcomes Camilla Luddington (Tomb Raider, Grey's Anatomy, True Blood) to our Summer 2014 show. This will be her first appearance at a convention. Other recent additions include Neil Napier and Tiio Horn (Assassin's Creed III), Dave Fennoy and Melissa Hutchison (Telltale Games' Walking Dead) and Josh Grelle (Attack on Titan).
Previously announced guests include Mark Sheppard, Rodger Bumpass,  J. Michael Tatum, Yuri Lowenthal, Johnny Yong Bosch, Roger Craig Smith, and more!
About CAMILLA LUDDINGTON:
Currently starring on ABC's hit series Grey's Anatomy, CAMILLA LUDDINGTON has the gift of portraying characters with both strength and vulnerability, and her Dr. Jo Wilson displays plenty of both as she finds her way through complicated storylines of love – opposite the troublesome Dr. Alex Karev — and career. Audiences relate, and love her.
The sci fi/fantasy world has come to love her too for her embodiment of Lara Croft, a different kind of heroine, in the video game Tomb Raider. When the game was released in 2013, critics praised Luddington for giving the classic icon a much-needed reboot. Gamers agreed, buying over a million copies in the first 48 hours of release.
But even before Grey's and Raider, Luddington had made her mark. In her first starring role in America, she brought to life the real English girl who was destined to become a queen, starring as Kate Middleton in the much-loved Lifetime movie William and Kate. The project launched her career in this country, and was one of the two highest-rated programs ever aired on the network.
From princess to au pair, Luddington has brought life to all kinds of appealing young women. In a major recurring role opposite David Duchovny and Evan Handler on the critically acclaimed Showtime series Californication, she portrayed Lizzie, the seemingly sweet English nanny who would do whatever it took to make it in L.A.
And somewhere between the princess and the nanny came Claudette the Fairy, her recurring role on the award-winning True Blood, where she again was the heroine, protecting series star Anna Paquin from all those True Blood villains.
Luddington was born and raised near London in Berkshire, England. She started acting at age 5, entertaining the family and directing her little brother in their two-character performances. By the time she was 11, she had her first agent and was appearing in local theatre productions. After finishing her studies in Theatre Arts at London's prestigious Italia Conti Academy in 2007, she moved to Los Angeles, where she now lives and works.
About NEIL NAPIER:
Neil Napier stars in SyFy's new apocalyptic thriller, Helix as Dr. Peter Farragut, Alan's flawed and deeply conflicted brother. Season One was a wild ride, and he is excited to get to work on Season Two later in 2014.
Prior to embodying Peter, Neil had the joyous privilege of playing Lt. Karl Hagerman in IFC's dark and dangerous comedy series, Bullet In The Face. With other TV turns in The Listener (CTV), Blue Mountain State (Spike), Zero Hour (ABC), The Business (IFC) and Naked Josh (Showcase), it's clear he likes to keep one foot in the dramatic and one foot in the absurd…
After spending much of his youth and early adulthood immersed in the worlds of rugby, football and hockey, Neil has found that his background in athletics has served him well in the world of performance.
In addition to dozens of forays onto the stage (his first love), and roles in cult horror films such as End of the Line and $la$her$, Neil's physical approach to his craft has been called upon in several recent productions, such as Erased (Weinstein Company), Infected (SyFy), Immortals (Relativity), Riddick (Universal), as well as the upcoming X-Men: Days of Future Past (Fox Studios).
Videogames also figure large in Neil's body of work: As well as playing the villainous role of Charles Lee in Assassin's Creed 3, and the burned out old skater/guide, Bob, in Shaun White Skateboarding, he has voiced and motion-captured characters in several videogames, including Deus Ex; Human Revolution, Watchdogs, Outlast, Assassin's Creed IV: Black Flag, and Thief IV. Neil is also currently working on several new videogame titles.
Born and raised in Montreal, Neil now resides in Toronto where, when not at work on a set or in a studio, he can be found playing hockey, practicing yoga and trying to get better at guitar.
About TIIO HORN:
Kaniehtiio (Tiio) Horn voiced and provided facial capture for Kaniehtí:io in Assassin's Creed III.
Tiio was born and raised in Kahnawake, a Mohawk reserve just outside of Montreal.
Tiio burst onto the feature film scene with roles in the The Trotsky opposite Jay Baruchel, New Reel Film's Leslie, My Name is Evil, as well as the lead role in the critically acclaimed and award winning The Wild Hunt. All three films premiered at the 2009 Toronto International Film Festival. Other credits include supporting roles in Jacob Tierney's Good Neighbours, Immortals opposite Mickey Rourke, Freida Pinto and Henry Cavill, On the Road starring Garrett Hedlund, Sam Riley and Tom Sturridge
In 2009 Tiio earned a Gemini Award nomination for her portrayal of Angel in the APTN MOW Moccasin Flats: Redemption, as well in 2010 and 2011 as part of the ensemble cast of CBC's 18 to Life. Other television credits include a rercurring role on Syfy's Defiance, as well as guest star appearances on Being Human, Alphas and The CW hit show Supernatural. Tiio currently stars in the Netflix original series Hemlock Grove opposite Famke Janssen, Bill Skarsgård and Landon Liboiron.
Tiio wrote, directed and acted in the semi autobiographical short film 'The Smoke Shack', which took home the 'Golden Sheaf' award for Best Comedy at the 2013 the Yorkton Film Festival.
In her spare time Tiio plays roller derby, and spends time with friends, family and her cat Boodz. She divides her time between Kahnawake, Toronto and Los Angeles.
About JOSH GRELLE:
A native Texan and avid anime fan, Josh Grelle has been working in voice work for over 10 years. After starting with ADV Films in January 2004, Josh was quickly bombarded with tons of in-booth experience on a wide range of shows, including Wedding Peach, Steam Detectives, 009-1, and the legendary Gatchaman. He began working for FUNimation Entertainment in 2006. Since then, he has starred in numerous titles; his most famous being Kenichi in Kenichi: The Mightiest Disciple. Other roles include Armin in Attack on Titan, Kyohei in the Wallflower, Kouichi in Linebarrles of Iron, Yuki in Future Diary, Itsuki in Initial D, and Kuranosuke in Princess Jellyfish. More recent roles include Chow from Starship Troopers: Invasion, Nicky in Mass Effect: Paragon Lost, Kazuya Aoi in Freezing, Yuji Sakai in Shakugan no Shana, Akihisa Yoshii in Baka and Test, and Komatsu in Toriko. Aside from anime, Josh has lent his voice to a number of video games, including Sima Shi in Dynasty Warriors 7, Xbalanque in Smite, Dave in Borderlands 2, and the voice of the "energetic" custom character in Dragonball Z: Ultimate Tenkaichi. Josh is represented by The Mary Collins Agency.
About DAVE FENNOY:
Dave Fennoy has been a preeminent voice working in Los Angeles since 1990 and one of the most versatile voices in the industry providing voices for Commercials, Narrations, TV Promos, Award Shows, Animation and Games. He portrayed Lee Everett in Telltale Games' The Walking Dead. Lately he is known by 30+ million Hulu viewers as "The Hulu Guy", the omnipresent voice of HULU.COM. His promo clients over the years include ABC, The WB, Fox, CBS, Showtime, Starz, ESPN, The Disney Channel and TV One. His campaign spokesvoice credits include Lexus, McDonalds, Corona Beer, KFC, Toyota, Chrysler, and ATT, Time Life Music R&B/Gospel and Southern Company. Gamers enjoy his work on STARCRAFT II, Metal Gear, That's So Raven, Ultimate Spiderman, Delta Force, Star Wars, Lara Croft: Tomb Raider, and many others. Narration credits include programs for National Geographic, Discovery Channel and Science Channel's popular series, "When Earth Erupts". His various film voices include "Ghost Rider", "Happy Feet",and "King's Ransom", and he has proved a cartoon favorite in such series as The LeBrons, Kim Possible, Ben 10, Darkwing Duck, New Kids on the Block, Pro Stars, Johnny Quest and Sonic the Hedgehog. Dave has been the show voice for several TV and Award shows, among them Late Night with Gregg Kinnear, The Billboard Music Awards, The Teen Choice Awards, Cedric the Entertainer Presents, and for the past 15 years The NAACP Image Awards.
Mr. Fennoy is a sought-after VO instructor, and the subject of a chapter in the book "Secrets of Voice Over Success" by Joan Baker.
About MELISSA HUTCHISON:
Melissa Hutchison has been earning her keep as a Voice Over actress for almost a decade. A Bay Area Local since 1989, Melissa divides her work between San Francisco and Los Angeles. Her resume includes a wide variety of work, ranging from TV and Radio commercials, to children's interactive toys, animation, and video games.
Melissa's most current claim to fame is being the voice of Clementine, From Telltale games, The Walking Dead. This role just earned her a Spike TV VGA for best performance by a female, and the game itself has pulled in over 55 Game of The Year awards for 2012.
When not fighting zombies, Melissa has also voiced for League of Legends (Ashe), Deadly Premonition (Anna Graham and Sallie Graham), Sonic and the Black Knight (Merlina), Bakugan: Defenders of the Core (Marucho), Telltales Back to the Future (Trixie Trotter) Telltales Sam and Max (Stinky), Death Jr. 2: Root of Evil (Pandora), and the list goes on! Melissa also got to dip her acting chops into the world of Anime, by doing the voice of Chise, in Saikano: She the Ultimate Weapon, back in 2002. Currently Melissa is working on an animated series, set to be released in 2014, called the Space Racers.
SACANIME is being held on Friday, Saturday and Sunday August – 29th – 31st, 2014 at the Sacramento Convention Center and Sheraton Grand Hotel. For more information, check out our website at: www.sacanime.com