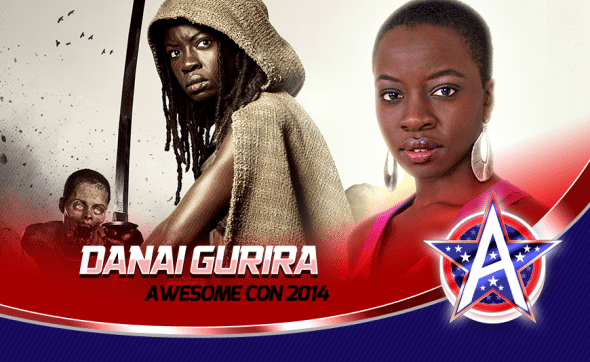 Awesome Con welcomes DANAI GURIRA (Michonne on The Walking Dead) to their 2014 show! Danai will be appearing both Saturday and Sunday. She joins a lineup including fan favorites like Billie Piper, George Perez, Cary Elwes, Steve Niles, Sean Astin, Marc Hempel, Ron Glass, Jewel Staite, Timothy Zahn, and many more!
About Danai Gurira:
Actress and playwright Danai Gurira stars as one of the most popular characters in AMC's critically-acclaimed original series "The Walking Dead." Based on one of the most successful comic books of all time, "The Walking Dead" follows a group of survivors who are searching for a safe home after a zombie apocalypse. In the season two finale, Gurira's heroine 'Michonne' bursts onto the scene as the mysterious sword-wielding zombie slayer. "The Walking Dead" wrapped its third season in style, logging a monster 11 million total viewers for the season, making it the first original cable series ever to end the broadcast television season as the number one show in delivery for adults 18-49.
Prior to joining "The Walking Dead," Gurira finished production on the independent drama "Mother of George," the story of an African woman's struggle after arriving in the U.S. to honor her heritage while attempting to define her new marriage in modern terms. The film premiered at the Sundance Film Festival and was acquired by Oscilloscope Laboratories. "Mother of George" will premiere in New York on September 13, 2013 and will expand to Los Angeles and an additional 10-20 markets the following week. Zeba Blay, from Indiewire, said "…Gurira, eerily luminescent in every frame, perfectly captures a part of the African experience – the struggle to reconcile tradition and heritage with modern, Western point-of-view."
Gurira also starred in the multiple-award winning film "The Visitor," opposite Richard Jenkins, in which she played a Senegalese immigrant in New York trying to survive while her illegal immigrant boyfriend is detained by the U.S. government.  Other film credits include "Three Backyards" and "Restless City." Her television credits include roles on "Law and Order: Criminal Intent," "Lie to Me" as well as a recurring role on the HBO David Simon series "Treme."
An award-winning playwright, her most recent play "The Convert" (Stavis Award) is an historical drama set in Rhodesia (now Zimbabwe). Part of a trilogy Gurira is writing about her native country's coming of age, the play ran at Woolly Mammoth Theatre in Washington, D.C. from February 13 to March 10, 2013.
Gurira was born in the U.S. and raised in Zimbabwe. She earned an MFA in theatre from NYU after moving back to the U.S.  Her initial success was as the co-lead of "In the Continuum" (a play she co-created and co-wrote while in the acting program at NYU.)  The upbeat powerful story focused on two women: one, an upper class, educated newscaster in Africa; the other, an impoverished teenager in south central L.A., who discover that they are HIV positive, and learn to cope in the face of hatred, discrimination and ignorance. Gurira performed the play off-Broadway, in numerous theaters around the U.S., and in Africa. She received numerous accolades including an Obie, the Outer Circle Critics John Gassner Award, the Global Tolerance Award (Friends of the United Nations) and the Theater Hall of Fame Honors.  Gurira also received the Helen Hayes Award (Woolly Mammoth).
She subsequently received a grant for research in Liberia and Sierra Leone which resulted in her second play "Eclipsed"—the story of women abductees trying to survive during that region's devastating civil war.  Gurira won Best Playwright at the NAACP Theater Awards and Best New Play at Helen Hayes Awards. And, on Broadway, Gurira starred Bartlett Sher's award winning revival of "Joe Turner's Come and Gone." She also earned the Actor's Equity Callaway Award for her performance as Isabella in the 2011 Shakespeare in the Park production of "Measure for Measure."
Gurira is also a Hodder Fellow at Princeton and a commissioned playwright with Yale Rep.  She is co-founder of Almasi (Al-ma-see), a Zimbabwean American Dramatic Arts Collaborative Organization. Their mission is to instill professional values, skills and practices in the Zimbabwean Dramatic Arts through education and collaboration with professional American dramatic artists and artistic institutions.
Gurira divides her time between New York and Los Angeles.
Awesome Con DC will be on April 18-20, 2014 at the Walter E. Washington Convention Center in Washington, DC. Show hours are 3pm-8pm Friday, 10am-7pm Saturday, and 10am-5pm Sunday. Details at the website:  www.awesomecondc.com