Gallery Nucleus hosts an art show on Saturday April 19, 2014 at 7:00 pm!
Press Release:
Wrought from the depths of our creativity, imaginary friends have been steadfast companions through amazing journeys and have helped to overcome unbelievable hardships. Despite being figments of our imaginations, these fantastical comrades cultivate immense growth and represent very real bonds.
Inspired by these unreal friendships, award-winning children's book illustrator Dan Santat's The Adventures of Beekle: The Unimaginary Friend weaves a tale about companionship, courage, and finding one's place in the world.  Beginning on an island far away where imaginary friends are born, one patiently waits his turn to be chosen by a real child, but when Beekle is overlooked time and again, he sets off on an incredible journey to the bustling city, where he finally meets his perfect match.
In conjunction with the release of Dan Santat's book, Nucleus celebrates these not-so-real friendships with a roster of some of our favorite artists, including noteable children's book illustrators, who would like to introduce all of us to their very own imaginary friends. Join us opening night as we pay tribute to friends both real and imagined.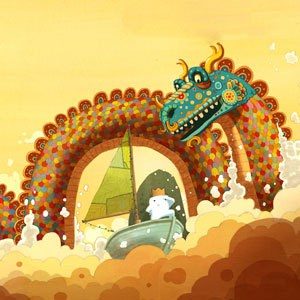 Exhibiting Artists Include
Adam Rex
Ako Castuera
Alina Chau
Anna Chambers
Anne Benjamin
Calef Brown
Camille Andre
Corinne Reid
Cuddly Rigor Mortis
Dan Santat
Daniel Brassette
Daniella Volpari
Dave Roman
Genevieve Godbout
Israel Sanchez
Jaime Zollars
Jake Parker
Joy Ang
Lorena Alvarez
Matthew Cordell
Maxime Mary
Nate Wragg
Nicole Gustafsson
Pascal Campion
Seb Mesnard
Tuna Bora
Yohan Sacre
Gallery Nucleus
210 East Main Street, Alhambra, CA 91801