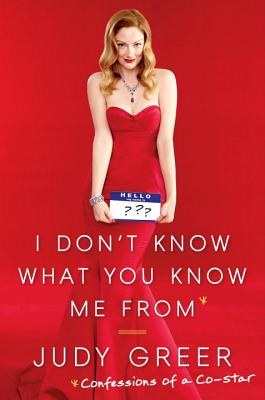 Judy Greer appears at Book Soup on Thursday April 17, 2014 at 7:00 pm to discuss and sign her new memoir I Don't Know What You Know Me From: Confessions of a Co-Star.
About the book:
ou know Judy Greer, right? Wait, what was she in again? The Wedding Planner, 13 Going on 30, 27 Dresses, The Descendants. Yes, you totally recognize her. And, odds are, if you're like most women in America, you feel like she's already your friend. Thankfully, Greer has finally written a book of essays about all the moments, topics, observations, and confessions that you would hope to hear from your best friend. How a midnight shopping trip to CVS can cure all? What it's like to have stepchildren? And how she "really" feels about her mother? Yes, it's all in there. But Judy Greer isn't just a regular friend-she's a celebrity friend. Want to know which celebs she's peed next to? Or what the Oscars were actually like? Or which hot actor gave her father a Harley Davidson? Don't worry–that's included, too. Besides being laugh-out-loud funny, you'll love her because she makes us genuinely feel like she's one of us. Because even though she sometimes has a stylist and a make-up artist, she still wears (and hates!) Spanx. Because she starts her book like this: "This is who I am. This is what I think about things. This is stuff that happened to me, that could have just as easily have happened to you. I'm not that special, and we're probably not that different. I think I am really lucky to be where I am in life, but I've never really lost that feeling that I don't fit in, and if you have, will you please email me and tell me how you did it? I'm serious."
About the Author
Judy Greer was born in Detroit and studied at The Theatre School, DePaul University's prestigious theater conservatory program. She is one of the most prolific actresses of her time, appearing to date in over eighty roles across film and television. Greer recently starred in the Oscar-winning film The Descendants and will next be seen in the remake of Carrie. No stranger to the small screen, she voices Cheryl (Carol) Tunt on the cult hit Archer and can currently be seen in Arrested Development as Kitty Sanchez. On stage, Greer recently made her Broadway debut in Dead Accounts. She stars in her own Yahoo! series called Reluctantly Healthy. Greer currently resides in Los Angeles.
Book Soup
8818 Sunset Blvd, W. Hollywood, CA 90069
310.659.3110