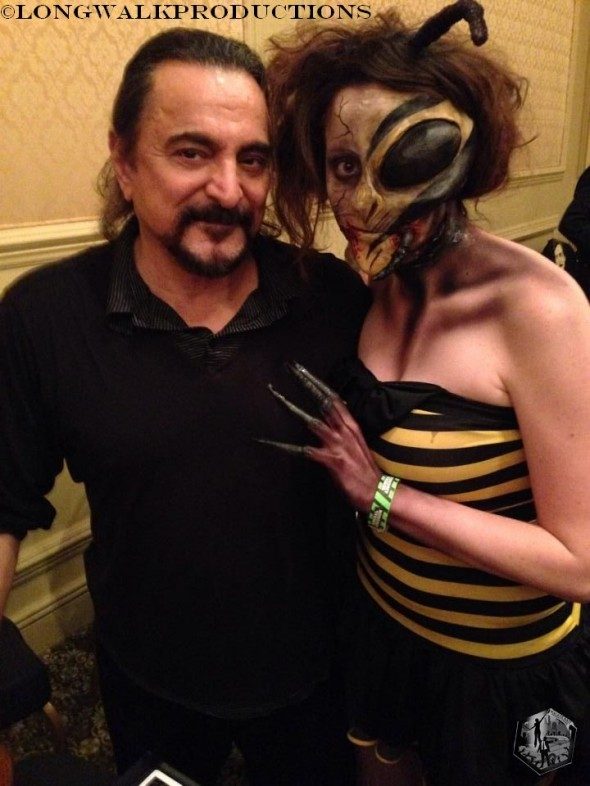 The Mad Monster Party returned to Charlotte this weekend, March 21-23, 2014, by far their biggest effort yet. This was the third year for the convention that celebrates everything from old school Twilight Zone to A House of 1,000 Corpses, and everything in between. In fact, where else could you find Leatherface himself, RA Mihailoff reciting the Bard with Shakespeare Carolina, while music legends The Misfits looked on? It was truly a bizarre weekend.
I had the great fortune to be invited by local independent film makers, Long Walk Productions, to hang with them at their vendor booth for the convention. This meant that my time was split between working the Con and also enjoying it from a visitor's perspective. It's interesting to see things from both sides of the house, especially if you want a clear impression of what is really going on around you. It's always a good thing, unless of course you are reviewing a restaurant. In that case, I assure you…stay out of the kitchen.
The Mad Monster Party (MMP) was set up between two large ballrooms at the University Place Hilton in Charlotte. The hotel is situated by a small lake, amongst many shops and restaurants all connected by small footbridge. Parking was a little tricky, but almost always is at events such as these. MMP utilized every bit of space that they could, lining the hallways of the hotel with various vendor booths and installing a gala tent in the parking lot. Everywhere you turned, strange collectibles and stars of the macabre awaited. Upon set up Friday, it seemed as though everything was planned to perfection. Little did I know how busy things were in the lobby with people trying to get through Will Call with their pre-paid ticket receipts.
And then, of course, came Saturday. Saturdays are notorious for being the busiest convention day because that's when most people are able to attend. It became evident quickly that the volunteer staff was not prepared to handle the situation. Social media began to explode with posts citing excessively long lines and ticketing issues among other things. Television and film star John Schneider, who was there to do a special screening of his new film Smothered, remained positive as he told me, "We had a good turnout [for the screening] but I wouldn't do it on a Friday night again, because I've had a bunch of people say that they couldn't get in last night because in order to see Smothered, they had to get in here first. And the line was too long, so by the time they got their ticket, Smothered was either already started or over." Aside from that snafu, Schneider seemed rather pleased with the rest of MMP.
That seemed to be the consensus all around. Nightmare on Elm Street's Heather Langenkamp, commenting on the amount of people waiting in line to meet her,  "It's something like I have never experienced." For the most part, vendors and celebrities were easily accessible, with no more than a 10 minute wait at any given time. But as Saturday progressed, maneuverability waned. Table lines grew wildly, specifically for William Shatner, Cassandra "Elvira" Peterson, and Corey Feldman. Traffic flow to the tables was not designated prior, so fans were coming at them from all sides. It was a complete cluster. Finally, someone had the sense to put some silver duct tape on the floor in front of Elvira's table to split the flow of traffic in either direction. Feldman told me, "I think it's [MMP] great, you know. It's probably the biggest one I've seen outside of [San Diego] Comic Con, that would be my guess."
Joe Moe, one of the three event organizers, was on hand throughout the weekend, talking to vendors, guests, and overseeing things first hand. I witnessed him assess a pedestrian traffic jam and quickly remedy the situation by addressing volunteer staff and guests. Having been on the working side of conventions before, I know how overwhelming things can become. Moe, always with a smile on his face, took it all in stride. "We're having some growing pains, yes. Ballpark, it looks like we're on track with 4-5,ooo in attendance, which is what we had hoped for." Moe also made sure to respond to comments on social media outlets throughout the weekend, which were not always positive, and address concerns in the best way that he could. "We're really responsive to fans."
Many of those fans had some downright horrible things to say in their posts. This is the first time that I have seen that level of response to a convention. Sure, I had issues with the event. For starters, the power went off twice in the ballroom leaving everyone in the dark for a few moments. The A/C was all but non-existent. There wasn't enough signage or a proper map laid out in their pamphlets to let guests know which celebs were in which ballroom, or to provide the location of any special panels (the tent in the parking lot, in case you were wondering). One of the actors, I won't name names, bumped into me at a water cooler. "I ain't seen a staff member in hours." He'd had to abandon his autograph table in order to get a drink of water because volunteers all but disappeared the more chaotic the crowd became. There were so many things that I witnessed–again, as both vendor and guest–that I would have done differently.
Certainly, there were cases where the venting was called for. If I'd pre-purchased tickets and still been subjected to a 3.5hr line to hand in the receipt, I would have been pissed! If my car had been lost by the valet (yes, that happened) the whole world would have known about it. But, the majority of the complaints were, in my opinion, blown out of proportion. I don't know anything about this Joe Moe or his colleagues. But what I do know, is that someone who is a fanboy at heart, got the idea to start a convention. A party by the fans for the fans. For everything that was wrong, so much of the weekend was right. Even Disney World gave me a headache (fast-pass my behind). But it was still one of the greatest vacations of my life.
That being said, let's consider the rest of MMP, shall we? One minute I'm discussing special effects make-up with the great Tom Savini, and the next, I'm cracking jokes with the likes of Richard Kiel and Dick Miller. There was a panel between WWF (yeah…I said it) legends Rowdy Roddy Piper and Hulk Hogan. Henry "the Fonz" Winkler was showing off children's books. Cherie Currie was chatting me up on the history of rock legends the Runaways. Corey Feldman used my cell phone. Megan Grant, a licensed cosmetologist and entrepreneur, was set up with her Get Dead Crew, providing air-brush and prosthetics to people, literally turning them into monsters on site. There was karaoke in the hotel bar Saturday night. I laid down the boogie and played that funky music til they died. Or at least until the Misfits' Dr. Chud cracked up laughing at me. The highlight of my weekend at MMP was Saturday night at midnight, when an estimated 1,000 guests piled into the gala tent to watch a screening of the Rocky Horror Picture Show, featuring a spectacular shadow-cast troupe called That Type from Charlotte's Cinebarre, and featuring the film's stars Barry Bostwick, Patricia Quinn and "Little" Nell Campbell. RHPS historian, Larry Vizel was on hand to film and conduct interviews for the upcoming 40th anniversary documentary Rocky Horror Saved My Life. It was an historical evening. In her second year attending with her family, Roseana Matthews found a "Golden Ticket" in the "Monsta Bar" she had purchased. The chocolates were a monster mock up of the famous Wonka Bar, with 6 lucky winners being upgraded to RIP status.
I guess the point that I'm trying to make, is that people need to lighten up. Unless something truly horrible happened to you or someone you care about as a direct result of something at a convention, you're problem isn't as big as you're making it out to be. MMP is, as Moe said, experiencing growing pains. In 3 short years, the event has grown exponentially. Given their celebrity guest list, perhaps they should have considered a different venue. This is an event that is convention center worthy, crammed into a hotel. In order to make up for the overcrowding (which, according to local news, had the attention of the Fire Marshall), organizers will need to carefully consider where they set up next year. Or at least, reconsider the amount of vendors in the halls (many in wheelchairs had difficulties navigating) or alter the layout. Volunteer staff could be better trained. But this is how it is done, honestly, trial and error. As an event organizer, you try to prepare for every possible scenario you can imagine and you train your staff based on that. Without fail, something unexpected will always crop up; being short handed, celebs that cancel, ticketing issues, photo-op issues, and so forth. Conventions should be looked at as viable organisms, growing and changing and evolving. They will never be able to please all fans all the time. But they will certainly try. Year to year, they'll try.
And it's important for MMP to learn from their mistakes and move forward a little more prepared next year. For every celebrity guest I interviewed raved about how much fun they were having and how they couldn't wait to come back. Celebrating all that scares us excites our film heroes, too. "Your first scare is the most important one you have," said Langenkamp, admitting that the Flying Monkeys from the Wizard of Oz is what started it all for her. Dick Miller laughed, "I've very rarely been scared by movies…except for something Shirley Temple did." Barry Bostwick had other ideas, "You wanna know why I do this? I do this to talk to lovely people like you and to oogle the girls. I just sit here and watch the girls go by." Thanks, Barry.
All in all, in spite of a few hiccups–some preventable, some not–I think Mad Monster Party was a huge success. It is a relaxed environment where you get to hang out with the celebrities, rather than being separated from them like at some other conventions. Between the few panels that they had, the movie screenings, and the Rocky Horror reunion, it was definitely worth the ticket price for anyone who attended. Even though I did my fair share of mumbling and complaining throughout the weekend, I will admit, as a fan I am grateful an event such as this has been put together. I hope that, in time, other fans will learn to appreciate what all goes into putting on an event of this size and what they got to experience over all. I'm looking forward to seeing what 2015 brings for the Mad Monster Party!
Photos courtesy of Garrett Marks and Walker Bait Productions, unless otherwise noted.