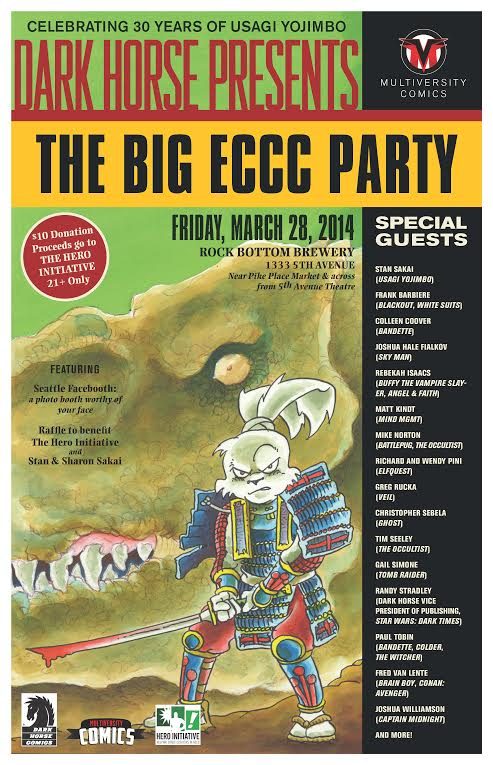 Press Release:
Hero Initiative Parties with Multiversity Comics and Dark Horse At Seattle Emerald City Comic Con
Hero is celebrating 30 years of Stan Sakai's Usagi Yojimbo
LOS ANGELES, CA (March 14, 2014) Hero Initiative, the non-profit organization that helps comic book creators in medical and financial need, hits the Emerald City Comic con in Seattle, Wa. March 28-30 at the Washington State Convention center.
And we're bringing our party hats! Hero is celebrating 30 years of Stan Sakai's Usagi Yojimbo at a party sponsored by Multiversity Comics and Dark Horse Comics! The party takes place at Rock Bottom Brewery, 1333 5th Avenue in Seattle, just four blocks from the convention center! Be there Friday March 28 at 8:00pm. Tickets are $10 at the door for this 21-and-over event. You can take party pics there at Seattle's Facebooth (a photobooth worthy of your face!) and enter a raffle with great prizes to benefit Stan and Sharon Sakai!
Make sure you hit the Hero booth at the con, #t'k, and visit these Hero Ambassadors on the con floor who will be collecting donations throughout the weekend for our cause at their own tables: Arthur Adams, Chris Burnham, Kurt Busiek, Jonathan Case, Amanda Conner, Ryan Dunlavey, Chris Giarrusso, Brian Haberlin, Karl Kesel, Jai Nitz, Michael Oeming, Jimmy Palmiotti, Brandon Peterson, Darick Robertson, Greg Rucka, Gail Simone, Ben Templesmith, and Fred van Lente.
See you there!
About The Hero Initiative
The Hero Initiative is the first-ever federally chartered not-for-profit corporation dedicated strictly to helping comic book creators in need. Hero creates a financial safety net for yesterday's creators who may need emergency medical aid, financial support for essentials of life, and an avenue back into paying work. It's a chance for all of us to give back something to the people who have given us so much enjoyment.
Since its inception, The Hero Initiative has had the good fortune to grant over $500,000 to the comic book veterans who have paved the way for those in the industry today. For more information, visit www.heroinitiative.org or call 626-676-6354.