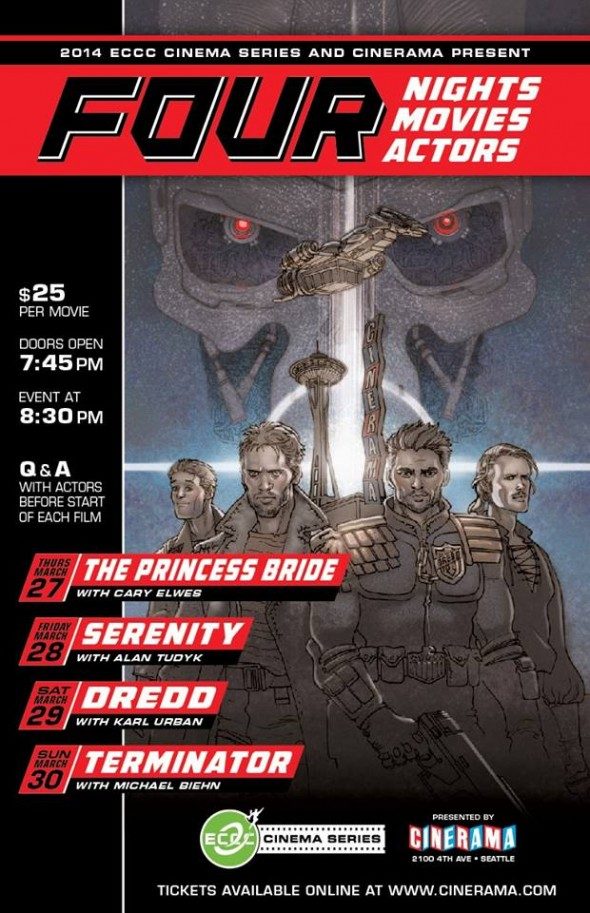 Press Release:
Four nights! Four movies! 4 actors! Emerald City Comicon is proud to partner with the Seattle Cinerama for our 2014 ECCC Cinema Series: a showing of each film and a Q&A with one of our celebrity guests. Admission for each film is $25/person (an ECCC badge does not provide entry to this event.)
Thursday March 27 brings you a screening of the fan-favorite The Princess Bride movie with the Dread Pirate Roberts himself, Cary Elwes!
On the following evening, Friday March 28, it's a showing of Serenity with Alan Tudyk (Wash)!
On Saturday March 29, Dredd comes to town with star Karl Urban, production designer Jock, and the writer of the official comic sequel, Arthur Wyatt!
And finally, The Terminator is back with star Michael Biehn (Kyle Reese)!
Doors open at 7:45PM, and the Q&As start at 8:30PM. Buy tickets at the link!
Poster art by Justin "Moritat" Norman.
Cinerama
2100 4th Ave Seattle, WA 98121