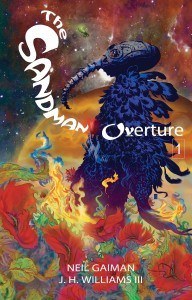 Press Release:
The Cartoon Art Museum welcomes acclaimed artist J.H. Williams III for its ongoing celebration of the 25th anniversary of Neil Gaiman's Sandman. This special presentation will be held on Saturday, March 15, 2014 from 7:00 to 9:00pm. Williams will talk about his process on Sandman: Overture and will discuss his experiences working on this historic book, as well as giving us a glimpse into the future. Original artwork from the first two issues of Sandman: Overture will be on display as the Cartoon Art Museum approaches the finale of its Sandman retrospective Grains of Sand, which will be held over through April 27, 2014.
A limited number of VIP tickets are available for a pre-event dinner with JH Williams III. VIPs will get priority seating at the Cartoon Art Museum presentation, front-of-line privileges at the post-presentation booksigning, and a Sandman sketch from JH on the book or item of their choosing. This option is limited to six guests and is available for $200. (Time and location to be determined; guests will pay for their own meals.)
Ticket details to be announced very soon!
Cartoon Art Museum
655 Mission Street, San Francisco, CA 94105