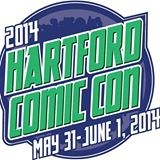 Press Release
Hey there Vendors and Artists!
Hartford Comic Con, May 31st-June 1 2014,  is excited to announce- available space on the selling floor! 
This is your opportunity to participate with one of the fastest growing conventions in New England!
Hartford guests will include-but not limited to:
Comic artists likeEd McGuinness, Tim Sale, Jimmy Cheung, Joe Benitez, Jim Mahfood and many more
Publishers like Big Dog Ink
TV and Film actors like Chandler Riggs from the Walking Dead
Voice Actors
Cosplay Celebrities like Riddle1, Beelechere, and Echo Endless
Charities like Inkwell Awards, local children's groups, and comic affiliations
Our projected attendance will reach 12-15 thousand our first year!
We would love to have you along for the ride on our maiden voyage!
It is easy to sign up.  Simply contact us at:
and submit either an Artist Alley application or Vendor Application.
(Click on the Registration link at the top of the toolbar)
For more information contact:
Epic Productions
561-756-0732