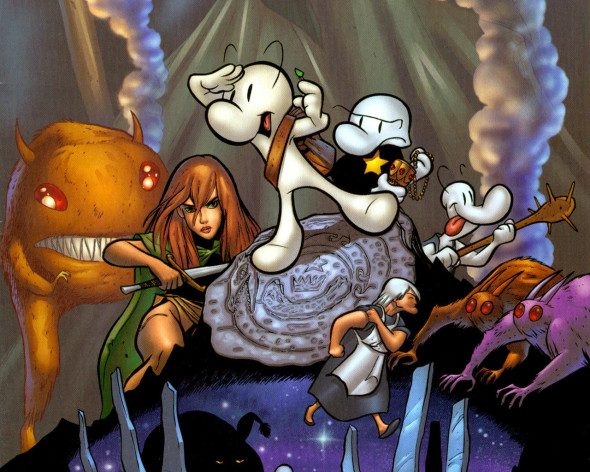 Boston Comic Con is thrilled to welcome Bone creator JEFF SMITH to his first appearance st New England's biggest comic book convention! The Bone series has entertained comic fans of all ages across the world and garnered heaps of accolades. In addition he has worked on SHAZAM: The Monster Society of Evil, created RASL, and currently writes and illustrates the webcomic TUKI, chronicling the journey of a prehistoric family. Be sure to catch this modern master of comics in a rare New England appearance! Tell your friends!
Previously announced guests include Jason Momoa, Jewel Staite, James Marsters, Eve Myles, Simon Bisley, Amanda Conner, Adam Kubert, Danielle Corsetto, Carlos Pacheco, Jimmy Palmiotti, Eric Powell, Gail Simone, Stan Sakai, and many more!
For the full guest list plus artist alley, exhibitor, and film fest registration please check out the Boston Comic Con website!
Online ticket purchases are available at the link! Tell your friends!
About Boston Comic Con:
The Boston Comic Con is a 100% independently run comic book show committed to bringing the biggest and best comic creators to New England. Run by fans for fans, Boston Comic Con is not affiliated with any other convention tour or corporate interests. Hosting over 120,000 square feet of vendors selling comic books, toys, posters, trading cards, and other pop culture memorabilia, this is a destination event for geeks of any stripe. Next year's convention will be held Friday August 8th, Saturday August 9th and Sunday August 10th at the Seaport World Trade Center, 200 Seaport Blvd, Boston, MA 02210. For more information please go to our website at www.bostoncomiccon.com and follow us on Twitter (@BostonComicCon) and Facebook!