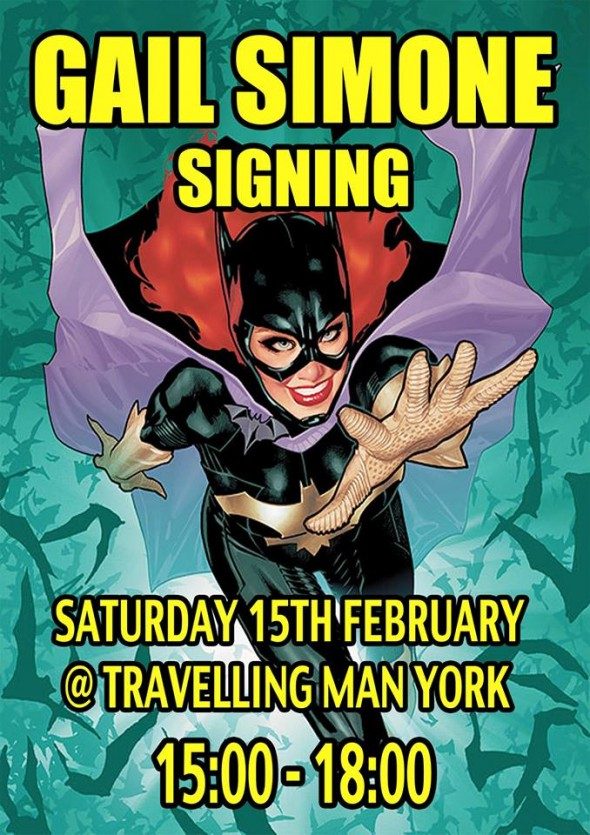 Writer GAIL SIMONE appears for a Special Guest signing at Travelling Man York on Saturday the 15th February from 3 – 6 pm.
Gail Simone is an American comics writer who has written countless titles for DC such as Wonder Woman and Birds of Prey, she became the writer for BATGIRL in 2011 when DC reached the comic for the New 52 and is also currently working on THE MOVEMENT, as well as DYNAMITE's RED SONJA.
Other notable works include Action Comics, Suicide Squad, The Fury of Firestorm, Justice League, The All-New Atom, Secret Six, Welcome to Tranquility, Deadpool, and The Simpsons Comics, she has also written for film, television and worked on video games.
Gail has been working on her first story for MARVEL in ten years 'The Dead Wedding' featured in Deadpool #27 and on February the 26th picks up Lara Croft's story where the smash hit TOMB RAIDER game left off in a new ongoing series for DARK HORSE COMICS.
Don't miss out on your chance to come and meet this Superstar writer and we look forward to seeing you all at the event!!!
Travelling Man
54 Goodramgate, YO1 7LF York, UK