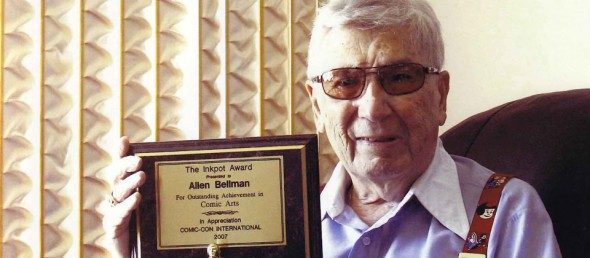 Press Release:
Allen Bellman, Robert Pope Returns To Grand Rapids Comic-Con
 The Grand Rapids Comic-Con is pleased to announce that comic book guests Allen Bellman and Robert Pope have both agreed to return to the annual comic book and popular arts event which will be held at the DeltaPlex in Grand Rapids, Michigan, on November 21-23.
Allen Bellman is a Golden Age comic artist who drew the backgrounds for Syd Shores' Captain America in 1942, and eventually worked on titles such as The  Patriot, The Destroyer, The Human Torch, All Winners Comics, Marvel Mystery, Sub  Mariner Comics, Young Allies and so much more.  Bellman  also contributed to pre-Code horror, crime, war and western tales for  Atlas.
Robert Pope is the DC Comics go-to guy for Cartoon Network characters. Robert is a penciller on  Scooby-Doo, Looney Tunes, Batman The Brave and The Bold and many others.  Robert is also freelancing for the Peanuts franchise for Boom Comics as well as the Power Puff Girls for IDW.
"Allen and Robert were popular guests last October," said owner and co-event coordinator Mark Hodges, "and bringing both of them back is a service to the 3500 people who were not able to get into the show last time. It is a pleasure and a privilege to have both of them back at the comic-con."
The Grand Rapids Comic-Con will be held on November 21-23, 2014, at the DeltaPlex Arena and Conference Center in Grand Rapids, Michigan. For more information, please visit the website www.grcomiccon.com.