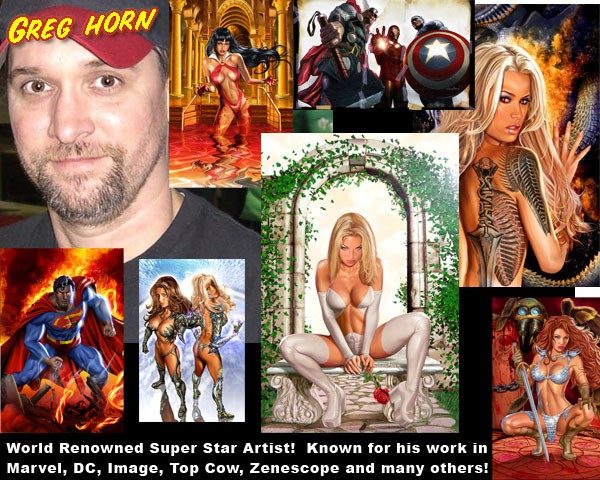 Press Release:
Super Star Artist Greg Horn to attend Steel City Con
Pittsburgh — Orangestone Promotions, Inc., promoters of the Pittsburgh based convention called the Steel City Con (http://www.steelcitycon.com) is celebrating 25 years as Pennsylvania's largest toy, comic book and pop culture show on April 11-13, 2014 at the Monroeville Convention Center with special appearances from classic TV and movie celebrity guests. The Steel City Con is known for bringing rare celebrity signing appearances and photo opportunities into the Pittsburgh market.
Steel City Con attendees will be excited to know that a major talent in the comic book industry will be attending the upcoming Steel City Con. Greg Horn, a professional artist, is known for his work in Marvel, DC Comics, Zenescope, Image, Top Cow and many others. In addition to Greg Horn's appearance fan will also have a chance to meet celebrity guests like Lee Majors. Mr. Majors will be headlining the upcoming show. Lee Majors is best known for his roles as "Heath Barkley" in the TV series The Big Valley and as "Colonel Steve Austin" in The Six Million Dollar Man. Majors will be autographing photos and items for fans as well as providing photo opportunities. Fans will be especially excited to participate in a Celebrity Q & A sessions and have a chance to ask Lee Majors and other celebrities attending the show questions of their careers. Joining Mr. Majors will be Cindy Williams ("Shirley" from Laverne & Shirley); Brent Spiner ("Data" from Star Trek: The Next Generation); Lou Ferrigno (TV and film actor from roles in the TV series King of Queens and especially The Incredible Hulk); Dermot Crowley ("General Madine" from Star Wars); Femi Taylor ("Jabba the Hutt's slave dancer Oola" from Star Wars); Parker Stevenson (TV and film actor known for his roles in Baywatch and The Hardy Boys/Nancy Drew Mysteries); Mackenzie Lintz ("Norrie" from Under The Dome and the "Tribute Girl District 8" from the Hunger Games). Bruno Sammartino and George "The Animal" Steele (WWE Legendary Hall of fame wrestlers). Many more guests to be added.
Attendees can also expect to participate in many planned activities. An official costume contest, celebrity Q & A sessions, panels, charity auctions and official sanction tournament gaming. Get your picture taken with your favorite Star Wars characters with special participation from the official Star Wars costuming organization. Fans can also meet and talk comics with many comic book artists, illustrators and writers.
Attendees can expect to see hundreds of vendor tables selling millions of toys, comic books, diecast, Anime, action figures, dolls, statues, G.I. Joe, Star Wars, Star Trek, posters, artwork and much more. The Steel City Con offers attendees one of the biggest shows in the United States at an affordable price. With vendor space offered at a low cost dealers are able to sell their items to attendees for much less than conventions that charge a huge amount of money for dealer space. Anyone interested in finding out more about the Steel City Con can go to http://www.steelcitycon.com