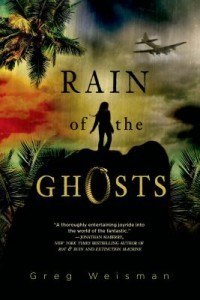 Greg Weisman (Gargoyles, Young Justice, Spectacular Spider-Man) signs his new book at Vroman's Bookstore on Tuesday February 18, 2014 at 7:00 pm!
About Rain of the Ghosts:
Growing up in the tropical paradise of the Ghost Keys, a (fictional) chain of islands near the Bermuda Triangle, should be paradise, but for twelve-year-old Rain Cacique, it feels more like a life sentence that dooms her to a future of bending over backwards for ungrateful tourists. Her beloved grandfather, 'Bastian, is the bright spot in her world, so when he passes away, Rain immediately attributes her newfound ability to see dead people (including the spirit of her grandfather as a young fighter pilot) to grief. Eventually, however, 'Bastian is able to convince her that he is really there, that she needs to help him put other spirits to rest.  Together, they discover a hidden world of mystery and adventure.
About the Author:
GREG WEISMAN is an American comic book and animation writer and producer, best known as the creator of Gargoyles and as the Supervising Producer of The Spectacular Spider-Man. Weisman just completed work as writer and producer on the Young Justice animated series. The television series he's produced have been nominated for a number of Emmy Awards. Currently he is working the new Star Wars cartoon REBELS.
Vroman's Bookstore
695 E. Colorado Blvd Pasadena, CA 91101